La Vie, a leading real estate project in Oman, has been officially unveiled by OMINVEST subsidiary ORIS. 'La Vie', which translates to 'The Life' in French, was announced during OMINVEST's 40th Anniversary celebrations earlier this month.
The first phase of the project is the reopening of the golf club inside Muscat Hills, named 'La Vie Club'. The club will be managed by Troon Golf and recently allowed preview play of its desert style 18-hole championship course. Investment has been made by ORIS in a new Club Car golf cart fleet, golf course machinery along with a new clubhouse that is due to open in the coming months.
Commenting on the reopening, La Vie Club Operations Manager Freddie Rexstrew stated, "We are very excited to re-establish the club as one of the premier golf facilities within the region serving golfers, the community and growing the game of golf in Oman. We will be delivering the Troon Experience and are focused on being a fun and family friendly club."
La Vie Club already boasts the first TopTracer Range in the country, the #1 range technology in the world, with game modules suited for all ages and ability levels. Additionally, a community calendar has been created including FootGolf and cycling around the course.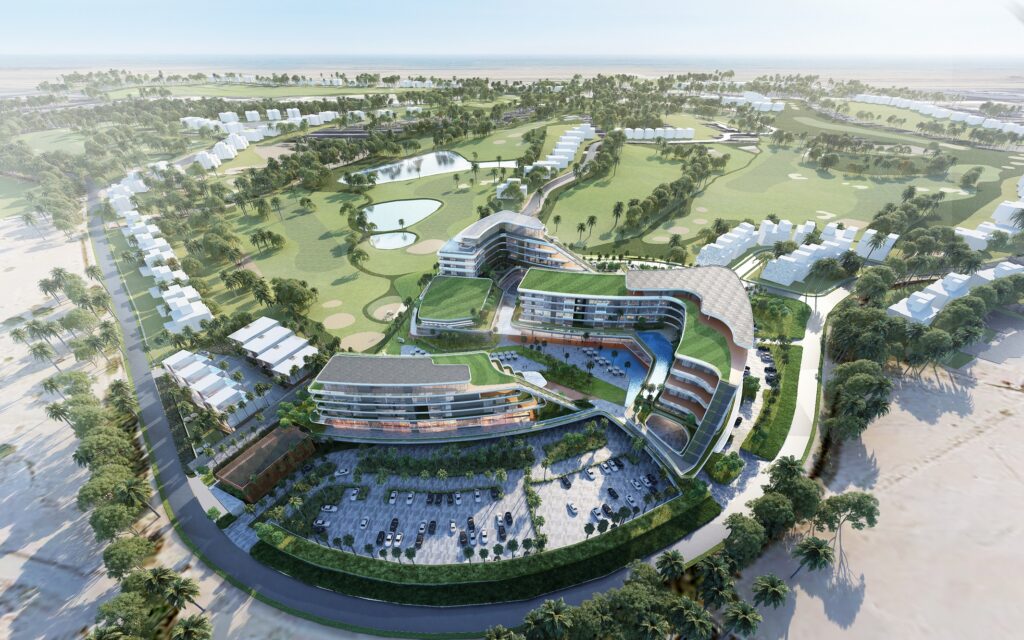 In the future, the La Vie project will boast residential, commercial and tourism buildings including an 80-room boutique hotel. Touching on the project's objective, Nasser Rashid Al Shibli, Chief Real Estate Officer at OMINVEST, said, "Through this project, OMINVEST aims to support the Sultanate's efforts in enhancing the role of tourism and sports sector in the diversification of the country's economy. LA VIE will be a valuable addition to the sector's infrastructure, attracting top brands in tourism and sports from around the world to operate its various facilities. It will also provide several job opportunities for Omani nationals, which aligns with the objectives of Oman Vision 2040. As an enabling body, OMINVEST is committed to realizing this vision in a way that meets everyone's aspirations."
Troon International's Senior Vice-President, DJ Flanders, remarked "Troon is delighted to reopen the course and look forward to bringing the Troon Golf standards to La Vie and the city of Muscat. Towards the end of this year, golfers will experience superior guest service, the finest playing surfaces and outstanding amenities. The new clubhouse, a summer of cultural practices with the new machinery, will enhance La Vie Club and make the club a focal point of not only the community but also of Muscat. We would like to extend our thanks and congratulations to our ownership OMINVEST and look forward to playing a central part of this exciting project."
About La Vie
The first phase of the LA VIE project features the re-opening of one of the region's largest natural golf courses, complete with 18 holes and a club for golf enthusiasts, managed by Troon Golf. The next phases of the LA VIE project will comprise of residential, commercial, and tourism buildings. The centerpiece of the development is an 80-room boutique hotel managed by global hospitality giant – TIVOLI, a part of Minor brand, which is making its debut in the local market. The hotel boasts a rooftop swimming pool that is 70 meters long, providing stunning views of the golf course and will also feature a private health club and spa operated by the world-leading brand 'Anantara'. Additionally, TIVOLI will manage 100 fully serviced apartments. The residential complex of the LA VIE project will consist of 8 independent luxury villas and 22 apartments, all offering unique views of the Gulf of Oman and the Al Hajar Mountains. The development will also feature approximately 2,800 square meters of retail space, including restaurants and cafes, which will host a wide variety of international brands. For additional news and information, visit www.lavie.om.
About Troon
Headquartered in Scottsdale, Ariz., Troon is the world's largest golf and golf-related hospitality management company providing services at 750-plus locations, including 740-plus 18-hole equivalent golf courses around the globe. In addition to golf, Troon specializes in homeowner association management, private residence clubs, estate management and associated hospitality venues. Troon's award-winning food and beverage division operates and manages 600-plus food and beverage operations located at golf resorts, private clubs, daily fee golf courses and recreational facilities. With properties located in 45-plus states and 30-plus countries, Troon's family of brands includes Troon Golf, Troon Privé, Troon International, Indigo Sports, CADDIEMASTER, ClubUp, Cliff Drysdale Tennis, Peter Burwash International, True Club Solutions, RealFood Hospitality, Strategy and Design, Casa Verde Golf and ICON Management. For additional news and information, visit www.Troon.com, or connect with Troon on Facebook, Twitter, Instagram, Troon Chronicles, Press Room, or subscribe to Troon Magazine.