With the addition of Memberships, Competitions & Handicapping and Point-of-Sale (EPoS) software, BRS Golf now allows you to quickly and easily manage everything from billing and payment schemes to competition set-up, restaurant ordering and green fees in one powerful platform
EPoS
Facilitate in-person transactions, member wallet top-ups and payments with BRS Golf's new point-of-sale technology. Full integration with our tee sheet and comprehensive reporting means clubs can keep track of all transactions to optimise their inventory and purchase ordering. While flexible discounting structures allow you to create your own special offers and automatically apply differential pricing for members and visitors. Plus, free up your staff with our food and beverage iPad app – orders transfer directly to the bar or kitchen, and payments can be processed on the go.
Graham Chambers, Director of Golf at Longhirst Hall, says: "Prior to using BRS Golf we had numerous systems, everything was separate. Now it's all in one place . It must have saved 45% of our administration time, which is important because we've taken on 400 new members over the last 18 months and 75% of our transactions are cashless now. The stock and inventory management and reporting are crucial for us – from speaking to suppliers for next year's contracts to working out pricing, we know what people are buying.
"The support and interaction from the BRS Golf team has been phenomenal. It's been a pleasure to work with them. I would 100% recommend the system, it's changed the way we operate the club. We wish we'd had it 10 years ago!"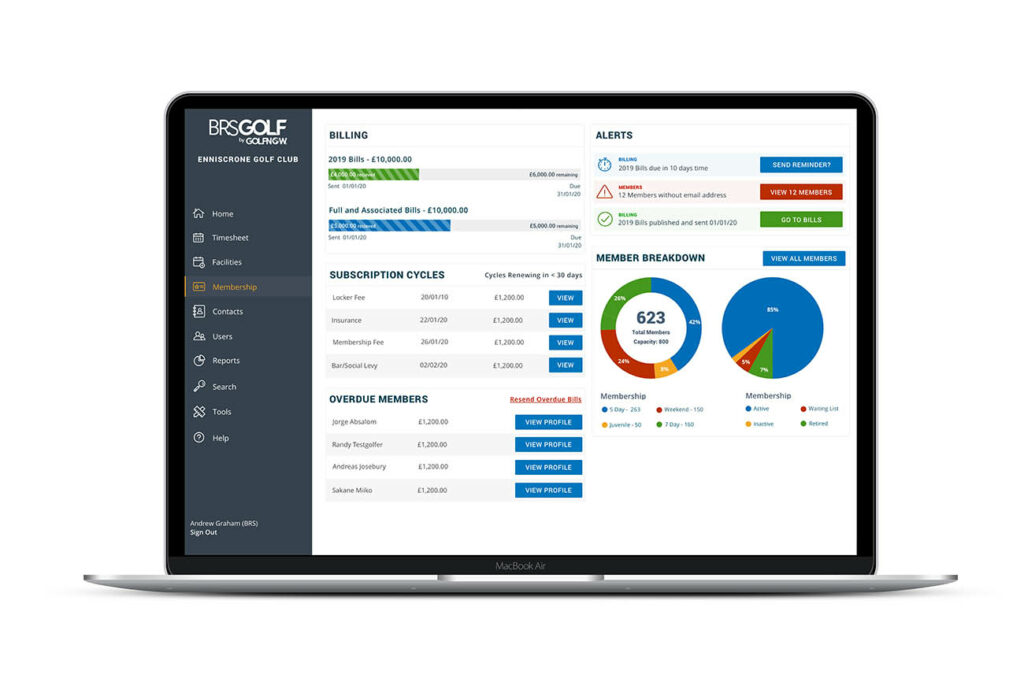 Memberships
BRS Golf's fastest growing new product innovation is our membership management solution, which has been adopted by over 100 clubs in the last year. This feature-rich, flexible software enables clubs to improve cashflow and reconciliations through online member billing and payments. Through Memberships you can create custom payment schemes for your members, chain subscriptions based on member factors like age and extend introductory offers that renew into full memberships.
Use our powerful reporting tools to compare year-on-year payments and revenue, and keep track of which members have viewed and paid bills at a glance. Save admin time by automating certain tasks within Memberships, for example set an allowed grace period for non-payers, after which their logins will be automatically disabled. And make life easier for your members as they can view and pay their bills directly through the BRS Golf members website and app.
Fame Tate, Director & Owner, Stanedge Golf Club, says: "We have no set renewal date for membership at the golf club. Initially, that was taking up an awful lot of my time prior to adopting the Memberships software. I was constantly having to look at the spreadsheet to see who needed a monthly reminder. This has streamlined all of that for me and it has dramatically reduced the time I am having to spend on it.
"It's a fantastic system. The support that I received from BRS Golf to start with was absolutely brilliant. I'm quite technologically savvy myself. I had a couple of telephone conversations with the guys and I got to grips with it straight away. We were using the system within 24 hours or so."
BRS Golf's EPoS and Memberships software work together seamlessly so that clubs can manage online and in-person member payments and wallet top-ups.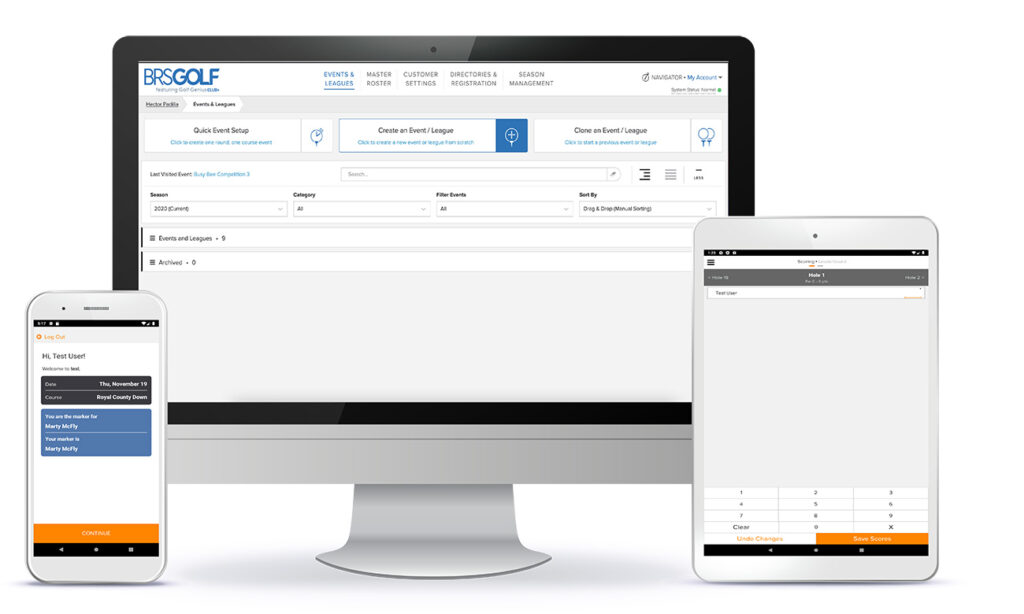 Competitions & Handicapping
Created with the aim of providing a best-of-breed complete competition management to the UK & Ireland club market, this solution was developed in partnership between Golf Genius Software and BRS Golf. It has now been successfully serving clubs for a full year and powered 50,000 rounds in 2021.
Bringing together the core strengths of both leading golf software providers, the BRS Golf and Golf Genius product delivers a complete competition management solution, including live scoring through the BRS Golf Scoring App, online booking and payment solutions, and full integration to WHS across all golf unions in the UK and Ireland.
Commenting on the product implementation at The Melbourne Club at Brocket Hall, Golf Operations Manager, Chris Drane said: "BRS Golf and Golf Genius takes running events and member competitions to the next level and I would highly recommend it to any club running member competitions or to someone wants to add a unique experience for their golf day or society business but also increase the amount of revenue generated from these events."
The two companies are committed to developing the product, offering further enhancements and even smoother integration, including features like Golf Hub – a powerful set of marketing automation capabilities, now available at no cost to all BRS Golf Genius customers.
Our latest technology is all fully integrated with our world-class tee sheet, member booking website and app to give clubs complete visibility into all their operations, saving hours of admin.
To speak to a member of the BRS Golf team or arrange a demo, please contact sales@golfnow.co.uk or call us UK: 028 9568 0288 | IE: 1800 852 935.
TW @brsgolf
FB /brsgolf