The end of the 20th Century marked a significant shift in the world of ten-pin bowling. For a hundred years, bowling had been a niche sport that attracted only those with the unbridled talent to knock over strike after strike. At the sport's height in the '60s and '70s, top American bowling pros like Harry Smith and Don Carter earned millions in prize money and endorsements. This rivalled the earnings of footballers at the time.
However, two decades later, the sport was on the decline. Interest in professional bowling was on the wane in Europe and America and bowling needed to change, or get left behind. The answer was a pivot away from viewing bowling as a sport, and facing it like the entertainment activity we know of today. Bowling alleys were now in the 'entertainment business'.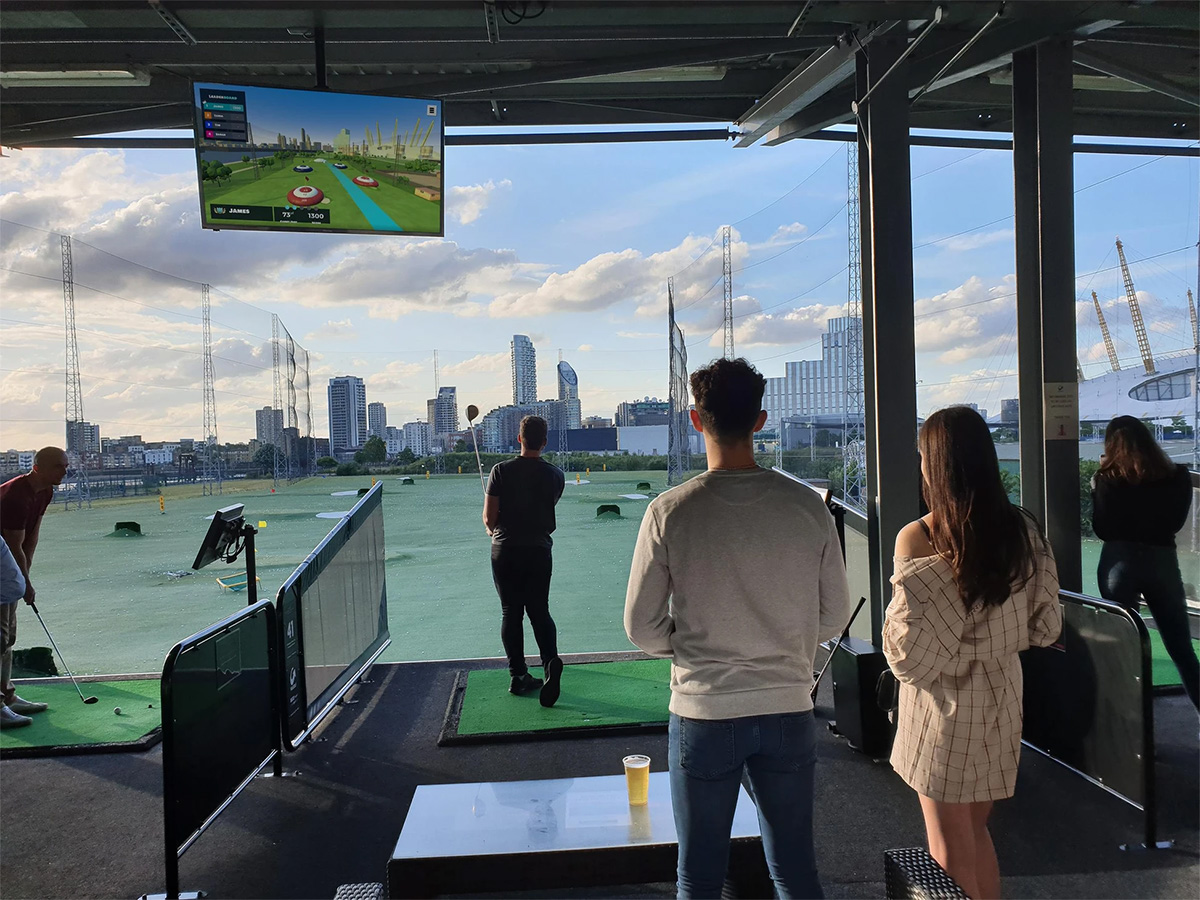 Quite quickly, the hushed silence to allow for concentration was replaced with disco music and the laughter of raucous birthday parties, tipsy work functions, and awkward first dates. Bright neon paint decorated the walls and electronic displays on mounted monitors showed pins exploding when hit by a bowling-ball shaped grenade, or where a ball rumbling down the side gutter produced a comical 'ha ha' on the screen. There was a sense of humour about the activity, a relatability.
Bowling was now for everyone.
This change in approach not only led to a happier customer, but also skyrocketed profit margins. The Phoenix-like rise from the ashes has led the bowling industry to be worth an estimated $10 billion a year with over 67 million people playing at least once a year*.
There is however one industry that is still 'a little behind the times' when it comes to embracing technology, golf. When we look at the sport, and more specifically the driving range, there's more than a passing resemblance to where bowling was in the 90s. And while the sports popularity has seen massive growth over the last two decades, the vast majority of ranges are essentially unchanged in their fundamental offer since the early 20th century. And in a world where visitors are expecting to merge their experience with technology, this has to change.
Revolutionary companies like Inrange® have taken the idea of creating a game within a game, and run with it. The company was founded in 2017, with the goal of changing the driving range experience to empower golfers, of any skill level, by offering them useful (and immediate) feedback on their shot accuracy, distances and a host of pro-quality data points players want to know. For the true golfer, this is a players paradise. However, it's not only that mastery that has led Inrange® to become an industry leader in the driving range tech space.
It's their fundamental belief that golf is a game for everyone. Not just the most experienced or highly skilled, but also the curious and keen.
"I wasn't a golfer myself – and we created Inrange® to help people like me to not feel excluded." – Nick Longley, co-founder of Inrange®.
The company's entertainment friendly approach, offering fun challenges & leaderboards for the practising player as well as a host of golf inspired games for social golfers, makes every player feel welcome at the range. That small, but monumental shift in how a driving range should be viewed, is why their clients are seeing such success. Some range partners have seen as much as 4x revenue growth since adopting their technology and it's easy to see why. Others have seen a spike in family attendees and others have expanded their facility due to the popularity. What Inrange® allows their clients (such as Boca West CC, The World of Golf, Greenwich Peninsula Driving Range and Abu Dhabi City GC) to do, is not only enhance the existing experience, but create a whole new one, through entertainment golf.
"It's easy to make technology. But to make it relatable and fun, to all players, that is the true measure of success." – NL.
It's clear that the future of the driving range involves technology, and that it is no longer just a place for golfers. Of course the range is, and will always be, a place to practice and improve your game. But it can also be a place to have a beer, finger food and a laugh with friends at the funny toasts and roasts on screen in each bay. Just like bowling alleys did in the 90s, driving ranges can transform their business by recognising that they too are now in the entertainment business.

Where can you find Inrange®?
Since its inception, the company has grown rapidly. They have bays at ranges across the world. Their operation is set up at 7 ranges in Britain, 5 in the US, 3 in South Africa, as well as a range in the UAE. There are expansion plans to move into Europe, China, and Australia in 2022. The Inrange site gives players' detailed information about where to find their ranges as well as the already signed deals coming soon.
The Inrange+ platform (the multiplayer option built within their system) currently has 5 games Shrinking Target, Bullseye, and Twenty One test players' accuracy and guile in various creative ways, whereas The Longest Drive is a head-to-head test of power and timing. The newest addition to the stable, Destroyer is a territory stealing game anyone can play. You can also play on virtual courses that are superimposed on their displays.
There is truly something for everyone at an Inrange®partner range.
Source: Information can be found in the US Bowler magazine media kit: Sources include Simmons Research Company as seen on https://www.bowlersjournal.com/industry-demographics/