From the moment you walk inside the newest Five Iron Golf location in the nation, the eye is immediately drawn to the neon lights and signs and the colorful street-art murals on the walls.
Then you take a walk downstairs with pop music blaring from above, take a left and take in the sight of 11 TrackMan golf simulator bays wall-to-wall across the space. But it's far from just simulators that make the place so inviting. Each one is equipped with brand-new golf clubs and comfortable lounge furniture, with a large full-service bar area, table games like foosball and many, many TVs. It's as if you took a sports bar or bar & grille and replaced all the tables with golf simulators.
After much anticipation, Five Iron Golf has finally arrived in Boston and is officially changing the way people enjoy golf in the city. Instead of navigating traffic to make a tee time somewhere outside The Hub, golfers can instead head inside the 15,000-sq ft building at 1 Washington Mall near the Old State House and enjoy an immersive, social golf experience. Five Iron opened earlier this year to great enthusiasm, as working professionals and golf enthusiasts alike have flocked to the space downtown to enjoy the game.
"Since we opened in 2017, we've been trying to get up here to Boston," said Seamus O'Sullivan, the general manager of Boston's Five Iron location. "It's a perfect fit: A cold-weather city, big sports town, big golf town. It couldn't have come at a better time following last year's U.S. Open. The golf bug is flying around right now, and we're super excited to be here.
O'Sullivan is hardly exaggerating the early enthusiasm as over 300 memberships have already been sold with a waitlist being formed. (Five Iron has partnered with Mass Golf to form a new Non Real-Estate Club). There are lessons, fittings, and leagues that also make Five Iron appealing. The TrackMan system also features 200 iconic courses, including some in Massachusetts: Dedham Country & Polo Club, Falmouth Country Club, Kettle Brook Golf Course in Paxton, Miacomet Golf Course on Nantucket, Pine Brook Country Club in Weston, and Wachusett Country Club in West Boylston.
But whether or not you play golf or have equipment there's a bigger picture to Five Iron. On any given day, customers could be in a serious competition in one bay and in the next be having a family-friendly putting contest, playing a hit the target game, or taking swings in a closest to the pin contest. While some might be weary to compare Five Iron to a bowling alley, the hope is to make the golf experience an activity as welcoming and inviting as bowling.
"We're trying to bridge the gap between the average golfer and the person who has never touched a golf club before," O'Sullivan said. "For the hardcore, scratch golfers we use TrackMan technology and data analytics to really hone in on your swing. And if you've never played before, we have a ton of mini games that you can play here that come free with the simulators. We really have something to offer all walks of life."
"Receiving such a warm welcome from the local community, and bringing people together to have fun, is why we created Five Iron in the first place," added Jared Solomon, CEO and Co-Founder of Five Iron Golf. "We're building golfers out of thin air."
Five Iron recently hosted a kick-off event to support First Tee Massachusetts youth programming at its several locations statewide. Teams of four were invited to play a scramble on the simulators at Pebble Beach with contests and prizes being given away that evening.
One group in particular demonstrated the wide appeal of Five Iron. Taylor Shepherd, who grew up in Quincy, was playing alongside several colleagues from ML Strategies, a Government Relations/Consulting Group located about half-mile south of Five Iron.
Shepherd, a former youth hockey player, has taken up golf in recent years, but this was her first experience on the simulators. But she was far from alone as her group featured a mix of new and longtime players.
"I'm learning as we go here, but I'm fascinated by the technology," Shepherd said. "This is so cool to be able to practice and really refine your game in the offseason, especially here when we really don't have much winter golf. It's a great alternative for that."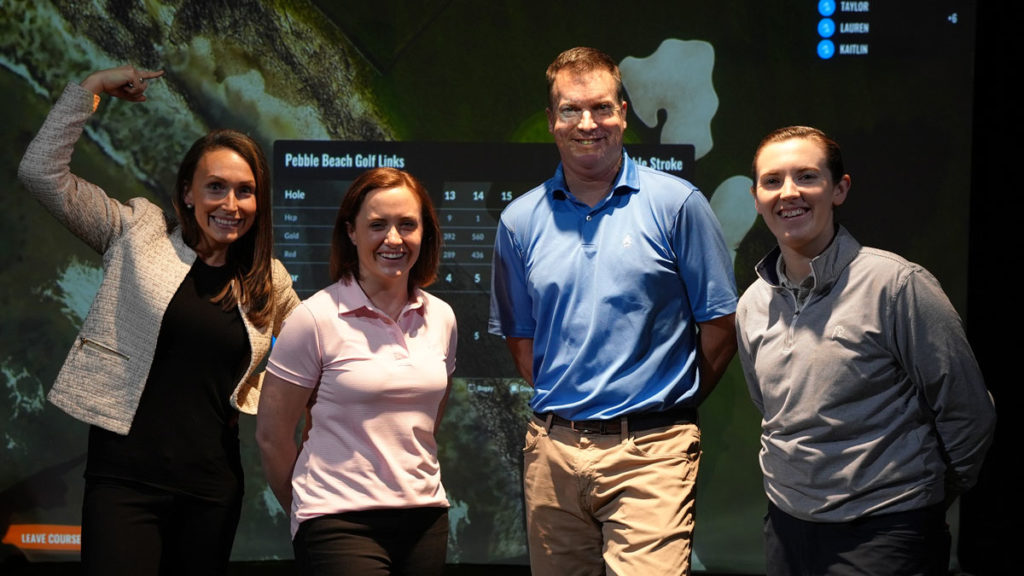 For Emerson Lotzia, a Sports Betting/Fantasy Sports TV Host at DraftKings, Five Iron has been a revelation when it comes to social golf. A week prior his team was at the WM Phoenix Open and had watched the Super Bowl at the course. During that time, he played Top Golf for the first time, but said Five Iron takes the golf experience to another level.
"Finally, we have something we've always needed in Boston," Lotzia said. "Ranges can get old. Instead I can come inside and play about 200 courses on planet Earth. I can have a beer, I can have some good food, and I can do it with my boys every day of the week. I can get a membership, keep my clubs here and work on my game. Does it get much better than this? I absolutely think it does not."
ABOUT FIVE IRON GOLF
Five Iron Golf is an urban golf experience that combines a unique mixture of golf, technology and entertainment with a community-focused vision of making the game more inclusive and accessible. Founded in 2017, Five Iron Golf has since expanded from New York to 16 total locations across 10 cities from coast to coast, bringing a reputation for turning traditional golf on its head, celebrating the unconventional, and energizing communities through accessible and enjoyable golf experiences. More information on Five Iron Golf is available at fiveirongolf.com.