Arccos – the pioneer of big data and Artificial Intelligence for golf – today announced record-breaking numbers for use of its award-winning Arccos Caddie platform, with the company now having surpassed 35 billion on-course data points and 500 million shots recorded during 9 million rounds played by its global membership.
In 2021 alone, Arccos members recorded nearly 175 million shots during almost 3.5 million rounds played across 44,000 courses in 163 countries, helping to fuel the industry's richest data set.
Perhaps most impressive was the remarkable improvement by golfers who harnessed the power of their personal performance data to play smarter and shoot lower scores – new Arccos Caddie members who played at least 10 rounds lowered their handicap index by an average of 5.78 strokes, and were five times more likely to record a hole-in-one than non-members.
Notably, new Arccos Caddie member improvement was seen across all skill levels, showcasing the power of on-course data to help any golfer make more informed decisions about equipment, strategy, practice and instruction.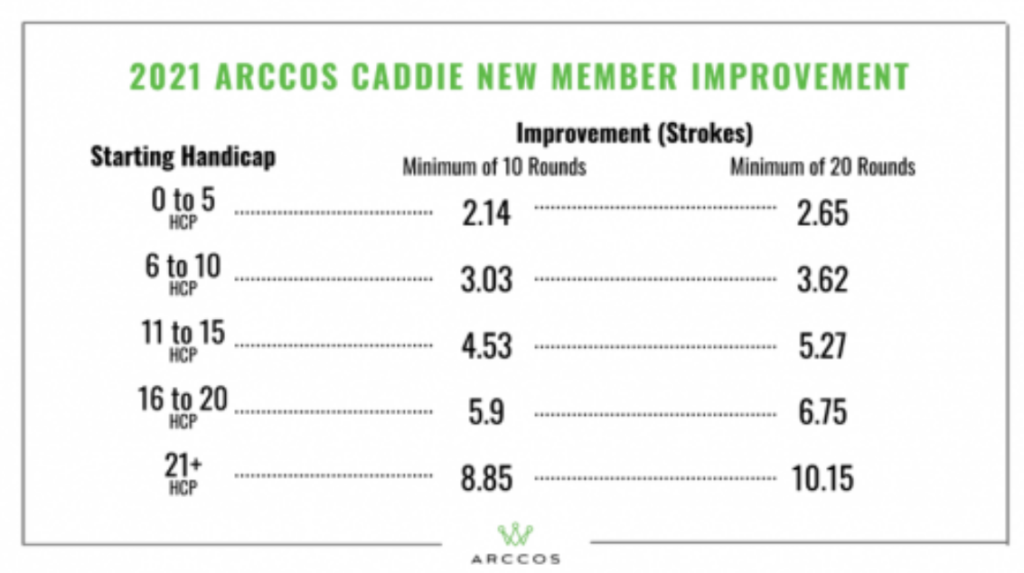 "Like the rest of the Arccos team, I am driven in large part by the tremendously loyal community of members that constantly share their stories of improvement and satisfaction at achieving their golfing milestones, be that breaking 100, becoming a single-digit handicap, shooting under par or recording their first hole-in-one," said Sal Syed, Arccos' CEO and Co-Founder. "They – along with our great partners like PING, TaylorMade, Cobra, Club Champion and TXG – make all of our growth possible, and also help us stay laser focused on delivering against our value proposition."
Arccos' exceptional 2021 also saw its members spend 478 million minutes (8 million hours) logged into the app and 332,000 days using Arccos' personalized Strokes Gained Analytics to assess their rounds and chart their path to improvement.
Although California proved to be the most popular location for Arccos Caddie members – with Harding Park, Torrey Pines, Pebble Beach and Spyglass Hill among the top 10 most-played courses – it was Dubai's Jumeirah Golf Estates Fire Course that saw the most rounds recorded by users. The Els Club (Dubai), Canada's Whistle Bear and Singapore's Marina Bay were close behind.
Golf's first Artificial Intelligence platform, Arccos Caddie automatically tracks your shots while delivering in-round insights and post-round Strokes Gained Analytics. The system includes the world's first A.I.-powered rangefinder, smart club distances and caddie advice for every golf hole on earth. The company's recent releases are highlighted by a groundbreaking golf ball data capture system. This represents the initial step in Arccos' process of analyzing how a player's ball selection may impact every aspect of their game, from equipment choices to club selection to in-play strategy.
The Arccos Caddie system and Arccos Caddie Link are permitted under the Rules of Golf (USGA Decision Numbers 2018-0414 and 2020-0305).