Shot Scope launched the V3 watch – a sleek, stylish, and innovative watch for the amateur to the average golfer to wear on the course to help them track their performance and improve their game. The V3 has a large-excellent display screen and is available in four different colour wristbands.

The technology and design behind Shot Scope's V3 go back several years. Founder and Chief and Executive Officer David Hunter is a self-proclaimed avid golfer and all-around golf geek. His focus is on how innovation and technology can help golfers improve their game.
"Golfers reduce their handicap by an average of 2.7 shots using Shot Scope, based on 30 rounds played with a Shot Scope performance tracking device."
David was an elite athlete as a teenager, excelling in taekwondo. It was during this period that he joined up with his local golf club and quickly got hooked. From a young age, David often focused on tracking his performance and statistics and by age 20, during his second year in university, he had an ideal afternoon (statistically speaking) while playing golf, which sparked his inspiration. David went on to continue studying engineering and electronic and computer software at university and after graduating, he worked for a design company for over a year before moving on to an electronic consultancy company when he was 24. By the age of 30, he could not get enough of playing golf, playing almost every day and late into the evening. David would track his performance and improve his stats by writing and stapling notes to scorecards. He studied his golf club usage, position and handicap. Other golfers noticed how he tracked everything and carried around notebooks with his stats in them.
"As a design engineer, I took this mindset into my golf game, using an old-fashioned method to track it with spreadsheets," said David. "Someone suggested that I develop a tracking device instead to help solve this issue."
David left the engineering field in 2012 and went back to school to be a high school teacher. As a teacher, he still had the habit of detailed note-taking and fast-forward a couple of years to 2014, he dove into the startup business culture and secured £250k in grants by 2015. His goal was to develop software that would collect statistics and analytics for golfers without much effort. "All golfers have to do is wear the watch on their wrist," said David.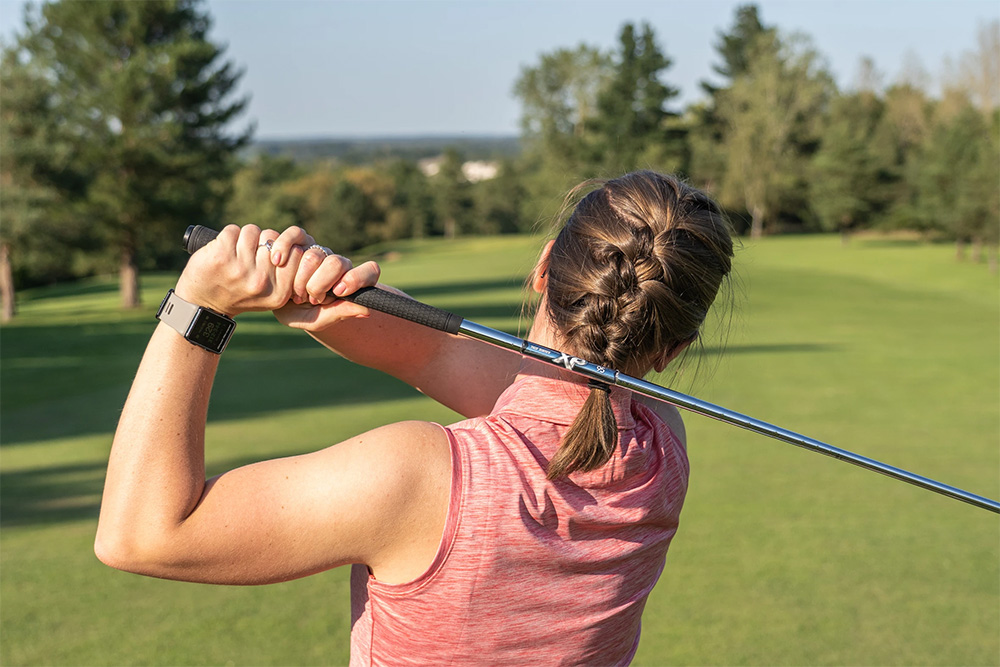 The evolution of the V3 involves its underlying electronics and refinements over the years. The original V1 mainly focused on performance tracking and operated as a basic wearable tracking watch. This version still provided the makers of Shot Scope with the data needed to make the necessary improvements that led to the V2. The V2's battery life wasn't ideal, and the screen display was still in black and white as the previous model. It did, however, have an improved GPS technology system. The company wanted the V3 to be even more accurate and stylish. It had been three years since the V1 launched in 2017. During this time, Shot Scope worked on the many variables, listened to feedback, evaluated how the software was processed, plus improved the aesthetics, before launching the V3 in 2020. The new and improved watch sold out in 10 days. The gained knowledge and increased number of suppliers allowed them to expand their ideas and products. Part of the software in the V3 is embedded in the strap of the watch, which provides accurate readings while the golfer is on the course. It can detect and read 500 to 1000 points of data, partial movements and swings whilst the user is just holding the golf club. It can also read the golfer's position on the course.
Shot Scope holds up against competitors by being a golf technology company and deriving its product design from the golfer's perspective. The V3 is convenient and easy to wear and while in play they also have a unique performance tracking platform. Wanting to develop a passive technology that could be inside the golf club, Shot Scope developed a system that allowed the watch to speak to the golf club's tag or ID. This method had never been done before.
Included in the latest model is the use of the Shot Scope mobile app and website dashboard. Golfers can easily view their average club distances, round overviews, scoring and breakdowns of the 4 main areas of the game; tee shots, approaches, short game and putting. Strokes Gained analytics are also available on each aspect of the game and this is a feature added at the request of existing Shot Scope users. Stokes Gained factors in different playing conditions, the weather and handicaps by providing handicap brackets and categories like scoring and putting to give improved readings. The updates to the watch and software are primarily based on user feedback. Shot Scope takes pride in the engagement that they have with their customers and the user data that the watch provides is user-driven. The company communicates regularly with users, mainly through email, asking what features they enjoy or what they would like to see next.
During the COVID-19 pandemic, "golf has been one of the few sports that you can still participate in," said Mr. Hunter, "and we are very fortunate because of this." The founder remarked that manufacturing shut down for several months, which postponed their launch date from March to July last year. Since the demand for the product has been high, they maintained their manufacturing and supply chain. Recently, they partnered with a manufacturer in Malaysia. The company is excited to work with this phenomenal manufacturer because it pays attention to detail and is committed to the brand. Shot Scope will start to send employees back to the office a few days a week in late July, early August of this year. The majority of the Shot Scope team is in their 20s to early 40s. "They are ambitious and they miss the comradery and social culture."
Shot Scope is a well-established golf technology brand and retailed throughout the United Kingdom. Golfers in the UK know their products and use them. "Not only is the watch nice to wear, but the performance of golfers is improving," said David. "The company is six years old. Getting past five years is a great milestone for a startup company." Their performance and tracking technology recently hit a milestone of 100 million shots recorded by golfers using the system – this is even more impressive when the last 50 million shots have only come in the last 10 months. Shot Scope also designs the PRO L1, a laser rangefinder. It is a market entry product that provides quality readings and focuses on delivering value to the golfer and helping Shot Scope's team better understand the golfer. David plans to continue using the data they collect to help drive the design and features for their products. "Users are invaluable. We are always trying to make the product better. Our golfers know the product because they use it all the time," said David Hunter.