Clube de Golf Santo da Serra has enhanced the island of Madeira's long-term environmental commitment to developing new golf eco-solutions after installing a new state-of-the-art irrigation system – reducing its water consumption by around 66 per cent
Building on the sustainable programmes undertaken by Palheiro Golf and Porto Santo Golfe in recent years, club officials have implemented an upgraded course eco-strategy over the last 12 months to improve its green credentials and improve the overall playing experience for members and guests.
Having installed a new irrigation system on the Machico and Desertas nine-hole loops at the end of last year, Clube de Golf Santo da Serra has now completed similar work on 3,193-yard Serras course – reducing its water consumption by two thirds so that just 750m³ a day is now needed to help ensure optimum course conditions all-year round.
In addition, the club has renovated the four on-course lakes that it uses for irrigation, installing an interconnecting system between all of them to improve access to water so that all areas of the 27-hole layout can easily be watered whenever necessary. It is estimated that the combined capacity of the lakes is around 40,000m³, a volume that will reinforce the storage capacity of the Lagoa do Santo system.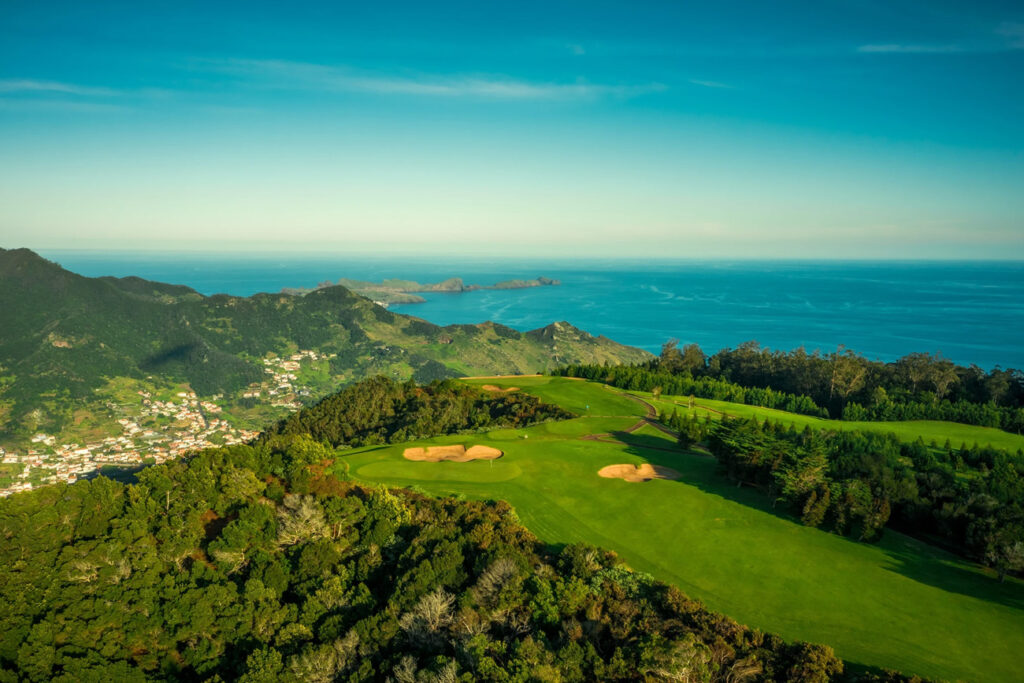 Ricardo Vieira, sales and marketing director at Clube de Golf Santo da Serra, said: "The system that we had was outdated and primitive and required 2,200 m³ of water a day to maintain all the grass playing surfaces.
"What we have now is a smarter, more efficient solution to all our golf course irrigation needs, giving us an integrated remote management system that will be a pioneer in hydraulics management on golf courses."
Porto Santo Golfe recently announced a range of new measures aimed at lowering its eco-footprint and making golfers more environmentally conscious, with upgrades being made across its golf and clubhouse facilities in the coming months to reduce water, plastic and electricity usage and improve recycling levels.
The installation of a new pumping system in the lake on the fourth hole to improve irrigation efficiency and cut golf-course water consumption; the sale of bamboo tees in the pro shop to encourage golfers not to use plastic golf ones; and a new rubbish house to improve recycling levels are just three of the changes being introduced, while Palheiro Golf is also working hard to deliver increased sustainability in and around the golf course.
As well as registering with the Golf Environment Organisation, the venue has dramatically reduced the carbon footprint of the course by using a black sand endemic to Madeira in all its bunkers, with future plans including the purchase of new golf-course maintenance machinery.
Named as the world and Europe's leading island destination at the 2021 World Travel Awards and located approximately 1,000km from the European mainland – and just 500km from the African continent – the island destination enjoys an amazingly mild climate, ranging from 25°c in the summer to 17°c in the winter, with very mild average temperatures and moderate humidity, making it the perfect year-round location for a golf break.
The best way to enjoy the island's golf is with a Madeira Golf Passport which, providing holders with an unrivalled golf experience, is available to both individuals and groups and can be booked on a three or five-round basis.
For further information on Madeira, go to www.madeiraallyear.com.