Dean Halford has been in the professional golf sphere for decades and has many accolades on his professional CV. Having been a professional golfer himself, and working with many up and coming talents, has given him a well-rounded view on the game and what it takes to be successful at it.
Now in a full time position at Mill Hill School (North West London), the Director of Golf focusses his time on getting more kids into the game, as well as helping those showing great promise take their game to the next level.
I recently sat down with Dean (Mr Halford to his students) for a chat about the way the game is changing and the secret to getting more kids interested. This is what he had to say.
Q: I would like to know more about you, what's your 'golf story'?
A: I played a lot as a child and became a golf pro in 1991. After a few years of that I got to work on the European Tour, where I taught some famous players. From there I began a golf teaching career at Millfield School, down in Somerset, and subsequently ended up at Mill Hill – where I have been for 15 years now. I run a golf programme for all the pupils, so I'm teaching pupils right the way from 3 to 18 years old. We are the only school in the London that offers golf as a full-time option for pupils in their private study period. On top of the coaching we have matches against other schools, it's quite a unique programme that not many schools have, and something I am very proud to be a part of.
Q: What is your primary motivation to get students into the game?
A: Having played golf all my life, the one thing I try to do when I am 'selling' the game to new players is I talk through all the benefits you'll have and all the life skills you learn in golf. here are the obvious health benefits, but also it's a social club too. You make friends for life through golf, because the beauty of golf is that you can play it for life. So, I think one of the main benefits is getting into a hobby that is good physically and mentally, that they can get decades of enjoyment out of.
Q: The driving range has become an integral part of your coaching program. Can you tell me more about that?
A: Sure. I take groups of pupils down to our local driving range (Metro Golf Centre – which is powered by Inrange® Golf technology) around 3 to 4 times a week. All the ball tracking data and the information that comes from the screens just enhances the pupils' experience. Ordinarily I was taking the pupils down, hitting a few golf balls, and trying to keep them busy myself, which wasn't always easy. Whereas with the Inrange® software available, it engages them, keeps their attention, helps them see exactly what they are doing and makes a massive difference to their experience of golf. They can't get enough of it really. I have got so many pupils now asking to play golf and our program has grown to around 100 pupils a week that come to the range.
Q: You didn't have this kind of tech growing up – so what difference do you think it makes?
A: I didn't, but I wish I did! It would've saved me a lot of time trying to guess if I'm heading in the right direction or not. And you know, technology has become a part of almost everything the kids do now. It's everywhere. So it's now a must when you're trying to teach them any new skill. Being young golfers they like the tech and understand what it all means. What I quite like about it is how it brings quite a traditional game and modernises it for the audience of today. And it changes the way people are playing, and from my point of view, is helping young golfers get better faster, which is fantastic!
Q: What different activities do they engage in at the range? How do they use the technology to their advantage?
A: They are so much more engrossed in what's going on than before, with the software they turn around and look at the screen and start competing right away. Once they are in their bay and logged into practice mode, they start trying to hit [the balls] further than each other, hit a target first, generate more ball speed than their friends and so on – they love it. Before we used to hit balls, then I would give them feedback one-by-one. Fortunately with all the data that's instantly available on screen after every shot, they can learn and adjust for themselves. That means I can work with more pupils at a time now.
Q: And are you seeing an improvement in their abilities on the range?
A: Definitely. Some of the more experienced golfers will go to the range outside of school time, and log in to their Inrange profile and hit their shots. They then bring the data to me in the app, and we can discuss a coaching plan for their next visit, which is massively helping them work on their weak areas and improving their overall ability.
Q: Golf tends to be an old and rich sport. How do you think we can get people who do not fit the 'traditional' profile to pick up a club?
A: Technology is going to play a major factor in getting anyone new into the game these days. The good thing about golf is it always seems to be at the forefront regarding technology. We were the first sport to really use video analysis because of the technical nature of the game.
In 2012, I set up The Online Golf Coach. I was the first member of the PGA (Professional Golf Association) to do online golf lessons. I had my own app and I have spoken at all the national golf shows about bringing technology into the game. Because if we can do that, we will naturally attract more youth into golf.
As for the non-traditional player, I think a lot of the governing bodies, golf businesses and brands are starting to engage young players, of all backgrounds, through technology, to show them the game isn't just about collared shirts and clubhouse rules anymore. Fun and interactive software like Inrange®, is definitely making it 'less scary' for kids – and that will make a world of difference.
Q: Having been in the game for so long, is there anything new you have learnt with this new technologically enhanced experience?
A: I would say that would be the biggest difference I have noticed is how interested young players are in their data and stats. When I am teaching a pupil, I don't just tell them what they need to do, we talk about it, we communicate and come up with a training plan together. And with all the feedback from the Inrange® system on hand, it makes the pupils' experience much better. And as a member of the PGA I feels it's my duty to take any young person who is interested in swinging a club, irrelevant of their starting skill level, and helping them enjoy it as much as they can.
Q: Lastly, where do you see the game going in the future?
A: Well, I certainly hope more ranges take up a system like Inrange®. Because I have seen first hand how much the students enjoy it and I know there is a multiplayer product too, which allows kids to play against one another for bragging rights – which is great. It's social, it's competitive but most importantly it's fun. And if we can introduce young players to the game in a fun way, then they are more likely to stick around and become the avid golfers of tomorrow.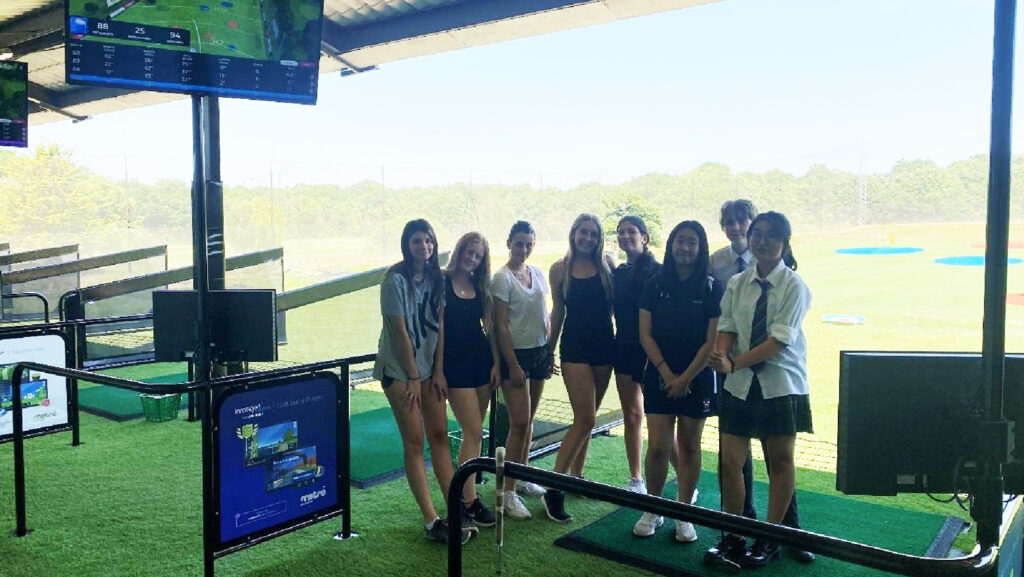 To learn more about Inrange®, click here
To learn about Mill Hill's golf program, click here
To learn about Mill Hill's golf program, click here
Notes:
This interview has been condensed for clarity
This interview was conducted in 2022
All opinions expressed are that of the individual alone