Leaderboard, a USGA®-connected social golf app built for on-course games and wager-tracking, launched today on the Google Play store. The release makes Leaderboard's platform, first launched on iOS in summer 2022, available to all US-based golfers.
"We're thrilled to reach this milestone and extend our product to all golfers in the US," said Riley Pratt, Founder and CEO of Leaderboard. "We've worked hard to learn from our users and build an experience aimed at the things that make golf fun and social, and we're confident our Android users will benefit from this from day one."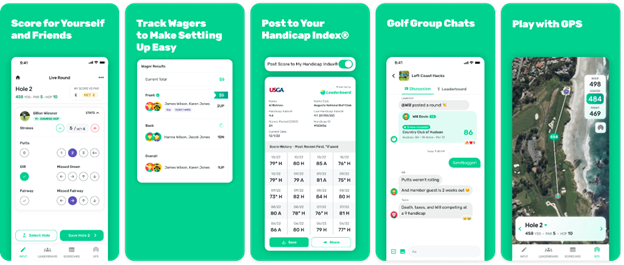 Full coverage across operating systems means golfers on Leaderboard can invite any of their friends to track group games like Nassau, Match Play, Nines, Skins and Dots from the first tee, and add them to golf group chats that feature leaderboards and on-course content. The app also supports Stroke Play scorekeeping and stat tracking for individuals and groups who aren't wagering or playing competitively, and social feeds to share on-course activity with friends.
Leaderboard's integration with the USGA enables golfers to post to their Handicap Index® and view their scoring record directly from the app. Android users will now be able to play games, use GPS, keep their stats, track wagers and manage their handicap from an all-in-one social platform.
The launch follows Leaderboard's success on iOS in its first year, where it was shared by tens of thousands of golfers and produced a 4.8-star rating on the App Store. "We're just getting started," added Pratt. "I'm really grateful for the support we've gotten so far, and our team can't wait to roll out new experiences driven by feedback from a really strong community."