Mark and Michael Dries had spent seven years running a successful software and application design agency together when conversations on the golf course with a successful technology entrepreneur became a million-dollar plan for a company based on the sport they all love.
The brothers' company, Mirk, had run augmented and virtual reality projects for clients ranging from chocolate maker Cadbury to phone maker Oppo and the NSW government. But the idea of building a blockchain-based golf company took root, and entrepreneur Clive Mayhew has pitched in with a $1.2 million seed investment to help make it work.
The company, known as Play Today, has ambitious plans to create an international brand, which will introduce golfing enthusiasts to the web3 world of non-fungible tokens (NFTs) and the metaverse.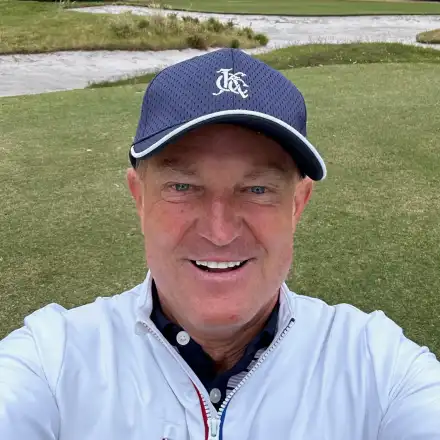 Rather than expecting people to play golf in virtual worlds, the pair are looking to build technology that supports and enhances the fun for those who get out on the course.
Most of the investment so far is going on developing a digital scoring app that has a crypto wallet inside it. That means golfers would have permanent records of their rounds, and be able to pit themselves against other players.
But the company is also dabbling in NFTs and a metaverse, which takes the form of a virtual clubhouse where it is envisaged that golfers will gather, trade stories, watch live coverage of events, or attend special events.
"The thing that kicked it off, to be honest, is COVID, because suddenly nobody was allowed to submit their handicap by using a physical card, and all of the golf clubs started using these first-generation digital scoring apps, which are very basic," Mr Mayhew said.
"What Michael and Mark have done is just gamified it and made it more exciting for golfers."
Mr Mayhew is a mainstay of the Australian tech scene, and chairman of the board of local start-up community group Fishburners. He came to prominence in the late 1990s as the Australian managing director of Netscape.
In 2014, he sold Sky Software, a student management technology company he co-founded, for $21 million.
Michael Dries said Mr Mayhew's investment had helped the brothers refocus their business efforts on Play Today.
The team of 15 developers and augmented reality specialists who had previously worked on client projects have all been reassigned to work full-time on Play Today.
Strategic partnerships
Mr Dries said the scoring app and wallet was based on the Flow blockchain, which is well known as the blockchain underpinning the US National Basketball Association's Top Shot digital collectables.
"We went through a pretty rigorous process of shortlisting about four or five blockchains that we thought would survive and be around in the medium to long term," he said.
"Our target is 100,000 mobile app users by the end of 2023, which would sound a lot if we were just hoping for individuals to sign up through an app store, but we've got a range of strategic partnerships in place where we will bring in tens of thousands of users all at once as their scoring partners."
Play Today aims to expand into Britain and the United States in the first half of this year.
Mr Dries is not worried by the relatively poor perception of the metaverse in many quarters, such as disparaging comments about lifeless events and characters with no legs in Facebook's metaverse, because he says he is playing the long game.
"The uptake is definitely a concern, but I think with all of these things, NFTs included, there is always going to be the shorter-term scepticism," he said.
"But if you take the longer-term view, it looks more impressive. We are bullish about digital wallets and the metaverse, with the thought that we will attract golf lovers with the content that's in there, rather than having a 'build it and they will come' approach."
Transaction fees
Another facet of the business model is a digital wallet featuring golf-related tokens to unlock metaverse experiences, or show standings in virtual leagues. This will act as a kind of Trojan horse to introduce the golfing demographic to the world of digital assets.
If they then begin using that wallet for many transactions in the longer term, Play Today hopes to develop a good revenue line in transaction fees.
"The idea is a very simple thing. You play golf, you score your round and then at the end of the round, you submit that for your handicap, but you also mint your scorecard onto the blockchain using your digital wallet," Mr Mayhew said.
"It is a big deal because it is really hard right now to create digital wallets for older generation people. They just hear about all the speculative crypto stuff, and it's just frightening for most people.
"So what they've built here is a way of putting a digital wallet out very quickly, and with that crypto wallet comes the fact you have a token which enables you then to take them into the golf metaverse."
With a plus one handicap, Mark Dries is a formidable golfer in his own right, and believes golf players' devotion to the game will draw them to adding the digital facet to it, so they can track their own performance and interact with others.
"There's no other more obsessive sports person than a golfer. If you're not part of that space, then you probably don't even quite grasp the gravity of them," he said.
"But basically, from clothing to equipment to professional golf, to talking about golf, it means that we think that we can get a lot of engagement."