Tell us about the origins of Laganview and what you offer as a business?
On a golfing trip to Scotland with friends, Nigel (owner of Laganview) floated the idea of opening up a golf driving range. Despite facing a lot of local opposition initially, Nigel persevered as he believed in his vision. Established in 1994, Laganview Golf Centre is a family run business that has built its reputation by offering first class customer service, combined with the highest standards of range products available. We look forward to celebrating 30 years of Laganview next year.
What trends are you seeing in the Golf Industry right now?
We have noticed an increase in demand for golf entertainment and our customer base has diversified since partnering with inrange technology. Our customers are now interested in the social experience and the entertainment value that inrange provides!
What challenges do Laganview and other driving ranges face (short and long term) and how do you plan on dealing with each?
The main challenge is keeping up with the advancement of golf technology in the industry and trying to implement these changes efficiently for the customers' benefit and smooth running of the business. As only 6% of our customers are female, we want to focus on attracting female golfers to practise at the range. We recently held a Ladies Event 'cupcake and bubbles' to encourage more females to get together and have fun! Along with the GUI encouraging more women to play golf…we too wish to make the range user friendly for women as some may feel intimidated in a very male dominant sport.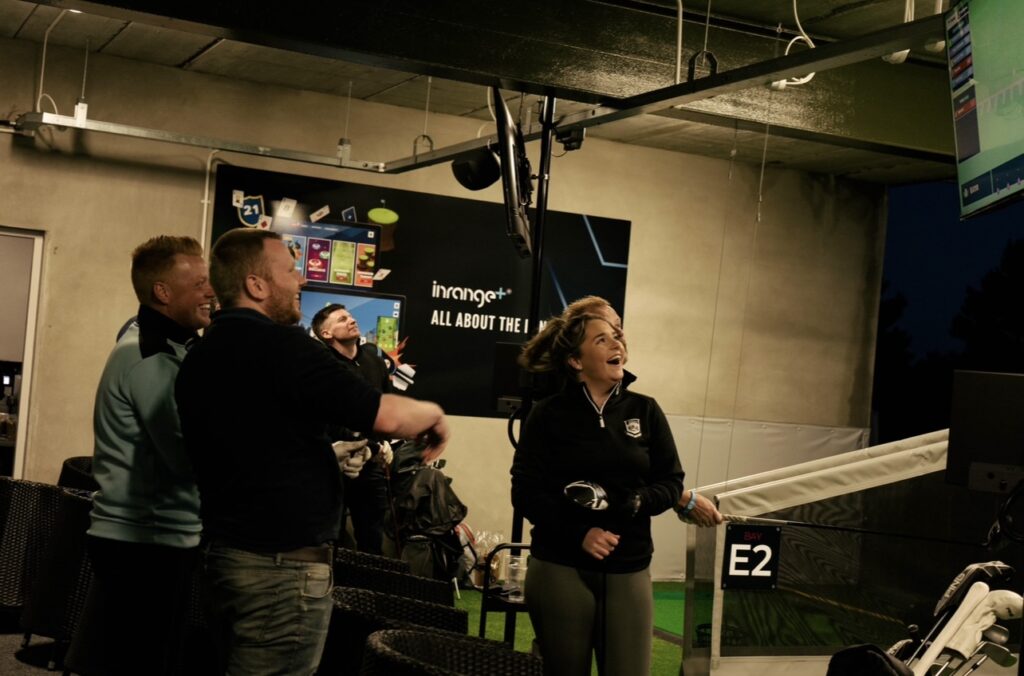 How does Laganview differentiate itself from other competitors in this space?
Laganview is currently the only golf centre in Ireland to offer inrange technology, combined with being one of the largest golf centres in Ireland, providing 50 floodlit bays. Every bay features inrange ball tracking technology and we currently have 42 power tee up machines on site. With inrange rolling out the world's first bay vs bay style competition, we are able to offer a unique team building experience for companies and large parties to compete against each other in inrange Teams! We look forward to running our own interclub competitions over the winter period when inclement weather conditions hit our shores.
Tell us about your partnership with inrange and how this has impacted on your business?
We had heard there was a new ball tracking technology on the market and it was during the first lockdown that we researched options as we felt it was time to bring ball tracking technology to the business. This is when we discovered inrange. Following a zoom call, we decided to visit Greenwich as a family to see the technology in action. Within 5 minutes of playing, our eldest daughter turned to us and said, "This is addictive!" We took our time and researched various ball tracking technology companies however we felt inrange was the perfect fit for Laganview. Prior to COVID-19, we noticed there had been a decline in the golf industry, with golf clubs struggling to attract membership. COVID-19 really gave the golf industry a new lease of life and during that time we saw a massive influx of interest. For the first time, people were queuing at our door! With the introduction of inrange technology, we have opened the door for non-golfers to enjoy the social experience at Laganview due to the gaming features available.
What specific role does customer feedback play in your efforts?
As a business, we have always listened to our customers. We feel it is vital to take on board their comments and suggestions and we have always reinvested in the business in order to ensure we are providing our customers with the best experience possible.
Tell us more about Laganview's plans on growth for the future?
We see Laganview as having massive potential within the golf industry and we are looking forward to new partnerships with local companies in relation to sponsorship and advertisement opportunities. With our world ranked players and our world class golf courses squeezed into our tiny country, this makes NI a hotspot for golf tourism and we believe that Laganview has the potential to tap into this exciting industry! On the other hand, as there is room for further development on our site, we are always keeping a close eye on trends in the industry to add to the facilities currently on offer at Laganview.
Where do you see the overall industry heading in the next 5 to 10 years?
We see Entertainment Golf as a growing sector in the business. With the increased technology, golf has been made accessible for everyone and we predict a further increase in demand for the social experience! Although we are situated in the close radius to other golf clubs, the keen golfer will always want to sharpen their skills at the range. We see social media coverage as being an essential part of golf's strategy to reach more segments of the population, especially the younger crowd. Therefore we now employ a full time social media manager to target the younger demographic.
Best advice you have ever received?
Embrace the journey! Setbacks and obstacles are a natural part of any worthwhile endeavour. Learn to appreciate the process and the valuable lessons it offers as every step you take, no matter how small, brings you closer to your end goal. Choose to see setbacks as opportunities for growth rather than failures and maintain determination, perseverance and resilience when times are tough – particularly in your first few years of business.