Situated near the Baltic Sea, Vá¤rmdᶒs Fá¥gelbro Golf and Country Club installed EcoBunker's synthetic edging.
Fá¥gelbro Golf and Country Club, located in Vá¤rmdá¶, Sweden, about 20 miles east of Stockholm and hard on the coast of the Baltic Sea, has completed a project to install EcoBunker synthetic edging solution in a number of its bunkers.
Swedish architect Johan Benestam handled the design work on the project, and he tapped a regular collaborator, Scottish consultant Alan Strachan, to help with the bunker construction work. Along with the club's greens staff, Strachan used the EcoBunker solution to build some very dramatic bunkers.
"Fá¥gelbro is about 30 years old, and is owned by Stefan Persson, the chairman of H&M," Strachan said. "The project was to rebuild five bunkers around the double green of the ninth and eighteenth holes. The bunkers that were there previously were Pete Dye-style timbered bunkers, and over time the timber was starting to decay and was slippy underfoot. So Johan and I figured that EcoBunker was a good choice. Once the bunkers have been constructed with EcoBunker, you don't need to go back to them for a long time."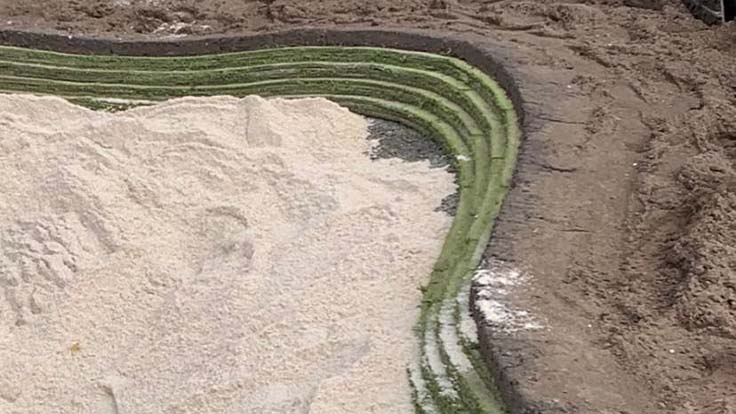 Strachan had significant input into the final styling of the bunkers. "I get a drawing from Johan and then interpreted it," he sais. "I'm not trying to be overly fancy but I want to get some life into them, while still prioritizing maintenance."
Most EcoBunkers are constructed using a double stacked method — two pieces of artificial turf to form each layer of revet. Fá¥gelbro's bunkers — which are large, with a total perimeter of more than 800 feet – use an unusual triple stacked method. "We triple stacked and built three to five layers of revet," Strachan said. "I felt that triple matches a thick natural turf on top better. It gives a better finish."
"I like the chunky look that triple stacking give," said EcoBunker founder and CEO Richard Allen, who conceived the idea of synthetic revetting. "We did it first at Burntisland in Fife several years ago. It really resembles a very thick cut sod. It's for those clients who want to see the stripes."