The booking experience in the €2.5+ billion golf travel industry has been far behind the curve compared to other travel and tourism sectors, until now.
As most know, online bookings, both desktop and mobile, are the standard today in the hotel, airline, rental car and other industries. More than 70% of all leisure hotel reservations today are made online through either the hotel's own website or through online travel agencies (OTA's) such as Expedia; and of these online reservations, OTA's process more than half.
Surprisingly in golf, more than 95% of tee time bookings made through golf travel providers are still handled by phone or email.  This is due to a lack of middleware technology that pulls inventory from golf courses into one easily accessible place where sales channels can access it online and in real time.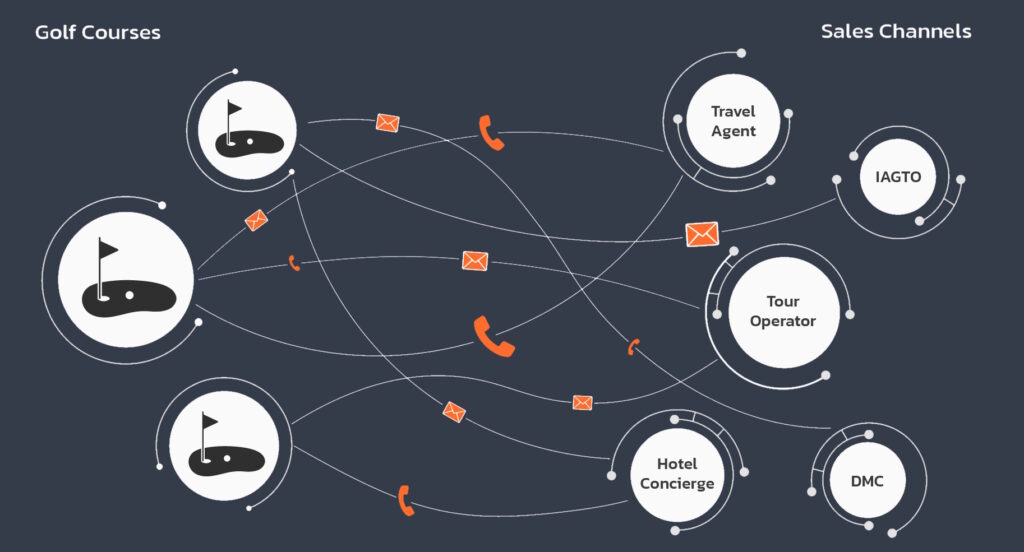 Zest.Golf Technologies is now providing those pioneering connections from the travel industry to golf – helping Golf Courses maximise tee time sales, profitability and efficiency, and making it easy for Booking Channels to search, book and sell the golf courses' tee times – all in one central online hub. 
With the advent of Zest.Golf's cloud-based Channel Manager and Payment Solution, the days of golf courses and golf travel providers doing business exclusively via phone calls and emails has come to an end.
Channel Manager
Zest.Golf's Channel Manager is an online portal built on open API connections between golf courses and tee sheet providers worldwide.  This API portal seamlessly connects all parties and their software allowing sales channels to query availability and make bookings electronically in real time, according to each golf course's parameters, and without the need for sending an email or picking up the phone.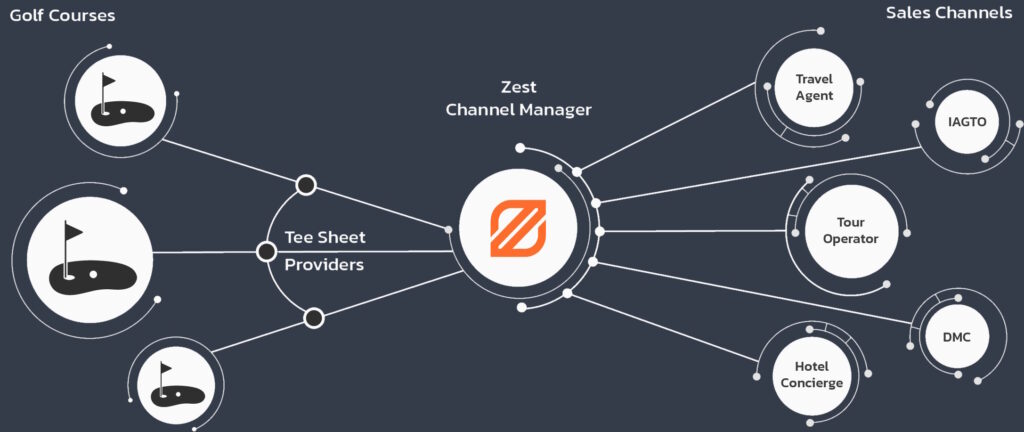 The Channel Manager is not a tee sheet provider and does not sell tee times directly to the public, it acts as a gateway making a 100% neutral marketplace linking consumer groups and golf courses worldwide without conflict of interest. As Zest.Golf has already done the technical integrations to make this possible, golf courses and booking channels only need to sign up to be connected.
"We believe that the Zest.Golf tee time channel manager will be an invaluable tool in our industry to streamline the bookings between travel operators and courses."
– Ricardo Pascual, CEO, iMaster.golf
Payment Solution
To support moving the B2B bookings process online, Zest.Golf has developed a pioneering, secure and seamless Payment Solution, processed by Stripe, which collects funds from booking channels and distributes them automatically. Uniquely, funds are collected and paid according to the conditions set by each golf course for maximum flexibility; and importantly, everything is processed by Stripe without being handled by Zest.Golf for peace of mind.
Currently, payments between golf courses and sales channels are largely processed manually by BACS transfer following receipt of invoice. This costs time and resources, plus discourages golf courses from working with new booking channels who haven't established an account. Some golf courses also ask for sizeable deposits upfront as credit against future transactions to guarantee payment, which is time-intensive to manage and challenging for booking channels due to the cashflow impact.
Zest.Golf's Payment Solution allows the golf course to independently set payment schedules for trackable, automatic collection. A golf course can now welcome any booking by any sales channel under a guarantee of payment, whether fully prepay, partial pay or under invoice conditions – with the Stripe framework providing the reassurance that funds will be received electronically on time and directly from the sales channel.

"The Zest.Golf platform will help us transition and streamline our B2B business online, automate payment and unlock new marketplaces to sell and distribute tee times. This is the future for the Golf Industry."
– Luis Filipe, Corporate and Leisure Relations Director, Quinta do Lago
Key Features for Golf Courses
The Channel Manager and Payment Solution offer benefits designed specifically to help golf courses sell all tee times from one central location, maximise revenue with electronic payment, keep commissions low, easily update rates and save hours of manual work every week handling B2B enquiries by phone and email.
# Booking Conditions – Reduce emails and phone calls, control what days and hours tee times are bookable and manage policies and rates for groups based on size, all automatically.
# Payments – Receive payment for booked tee times when you want to receive the funds, automatically, including immediate full prepay, partial payments, or on invoice. Set sales channels with custom conditions and/or have universal policies so every channel worldwide can book and pay instantly.
# Market Reach – Extend sales opportunities with automatic connections to all global and regional sales channels, even without commercial contracts as payment is automatic with the Zest.Golf Payment Solution.
# Cancellation Policies – Set specific rules based on channel type, group size and hours before play for each booking channel, with payments secured by the Zest.Golf Payment Solution.
# IAGTO – Automatic connectivity to IAGTO-member sales channels.
# Efficiency – Digital dashboards, extensive reporting and confirmations for ease of business management and maximising revenue and yield margins.
# Simplicity – Easy sign up with rates input and system configuration done for you, no software installation or downloads required.
# Free Start – SaaS Starter package for no cost, no obligation, for standard use of the platform.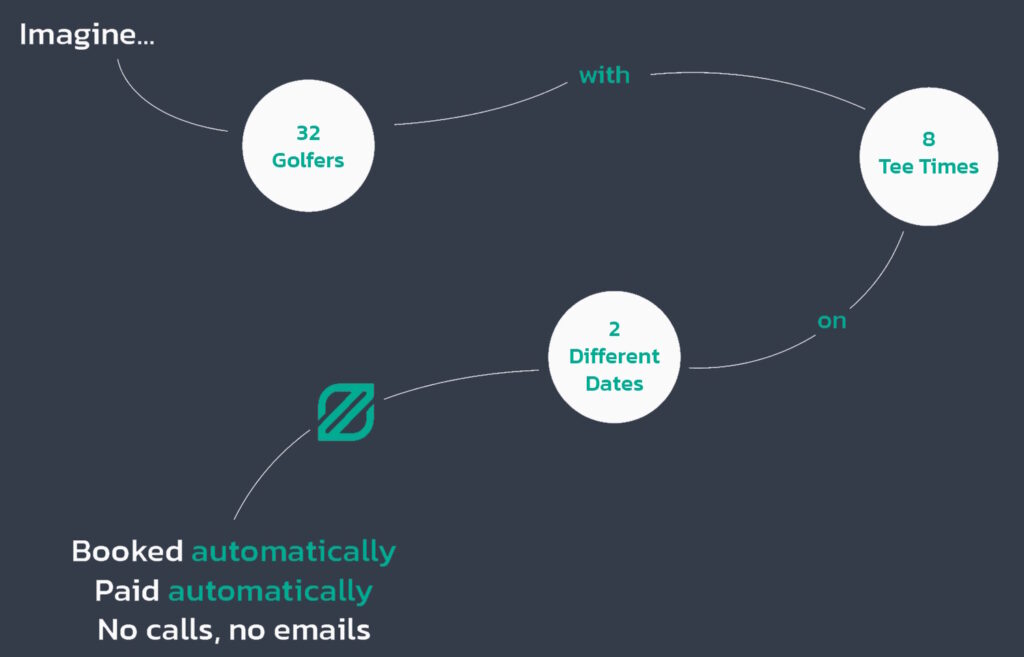 Key Features for Sales Channels
The Channel Manager and Payment Solution save time and financial resources by providing live online access to golf courses worldwide on one central platform – extending destination reach with automatic connections to global and regional markets, even without commercial contracts.
With the technology, there is direct access to a golf course's inventory without phone calls or emails, allowing faster service to clients with live, real-time information.
# Real-Time Bookings – Integrations with various tee sheets no longer required. Check live, multiple course availabilities and book and manage reservations in one central online hub.
# Shopping Basket – Shopping basket functionality to search and save multiple items for one checkout, book single and multi-player groups across multiple courses and dates all in one transaction.
# Market Reach – Extend sales opportunities with automatic connections to global and regional markets, even without commercial contracts.
# IAGTO – Automatic connectivity to IAGTO-member golf courses.
# Efficiency – Digital dashboards, extensive reporting and confirmations for ease of business management and maximising margins.
# Simplicity – Easy sign up, no monthly fees, no software installation or downloads require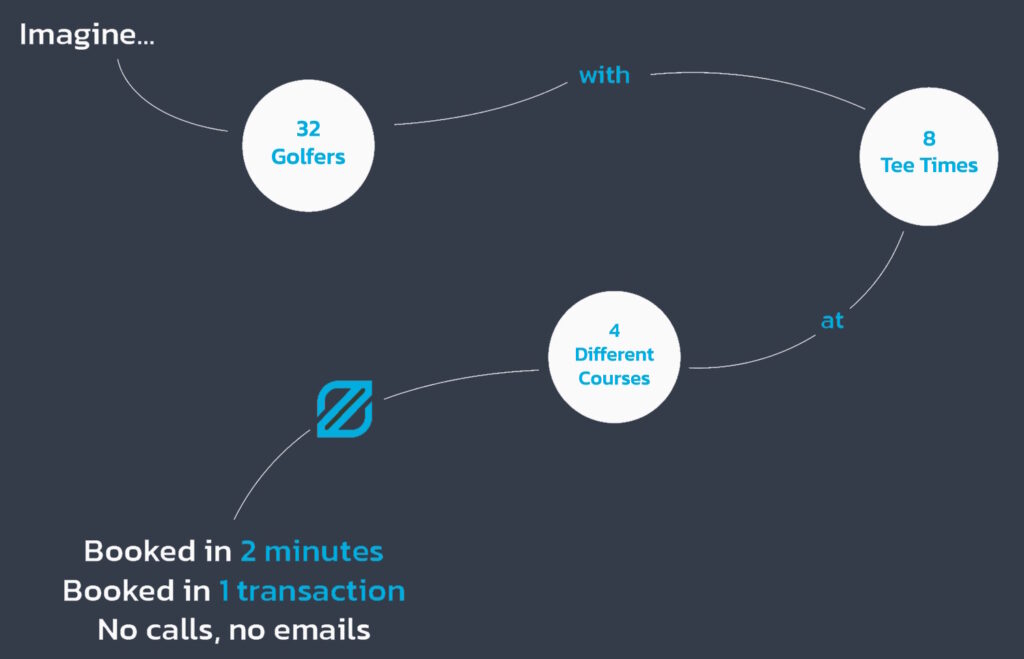 For more information please contact – Jo Maes, Chief Commercial Officer (CCO)
Website: www.zest.golf
Email: jo.maes@zest.golf