The local saying here, Everything is Bigger in Texas, proved to be more truth than fiction this week at the 2023 PGA Buying & Education Summit, which took place at the new multi-million dollar Omni PGA Resort & PGA of America complex.
Record attendance, record number of vendors and limitless space to showcase their golf apparel and technology wowed industry leaders both nationally and internationally.
"We're only going to grow from here. Just look around and see the participation level this year and it's very exciting for us and for them to see all the work at PGA Frisco," said Scott Stone, National Sales Manager for Ahead Golf apparel.
"This was like a Disneyland for golfers and golf products," said Pete Holman, co-creator for GolfForever, a Colorado golf technology company who set up on the massive practice area, between the Omni PGA Frisco Resort and the PGA of America headquarters and teaching center.
"We have to take advantage of being connected to the PGA National Headquarters which helps us and everybody," added GolfForever business development manager Nichole Hage.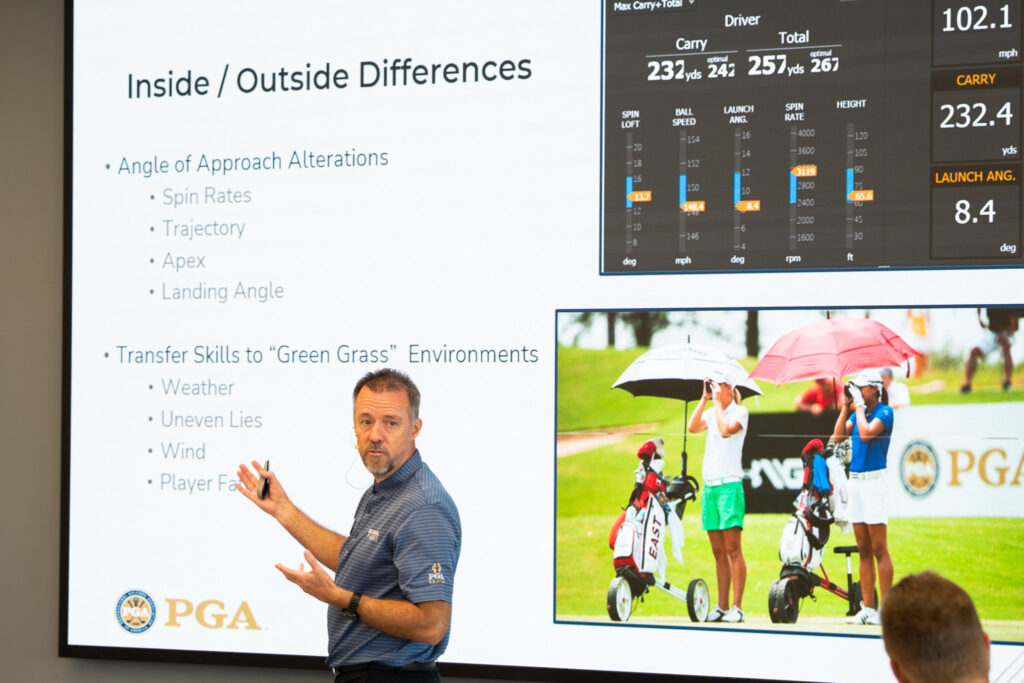 While the show previously had been held in a hotel ballroom in Las Vegas, figures released by the PGA Show officials revealed attendance for the three-day show at PGA Frisco more than doubled in size for anything previously done at a summer expo elsewhere.
More than 1,000 industry participants took part in the three-day event with 166 vendors, both golf apparel, technology and equipment vendors, many for the first time.
"On a scale of 1 to 10, I would say the PGA Baying summit was a 12 for us," said Sara Gilmore, product manager of GoodGood Golf.
While no formal agreement was announced, PGA Expo officials said they would doubtlessly look to return to the facility as soon as next year.
"The new home of the PGA of America and the Omni PGA Frisco Resort seem like they are custom built for a golf industry event like this," said Marc Simon, Vice President PGA Exhibitions which organizes and runs the shows both in the winter and summer.
"The feedback has been extraordinary on the entire campus and very positive on the event itself," added PGA of America CEO Seth Waugh.
Much of the success was driven by dozens of golf companies which were spread out across the large practice range including Blue Tee Golf, Cobra Golf and Callaway Golf.
The lighted putting green, the largest such surface in North America, known as The Dance Floor, had such companies as Cleveland Golf, Cobra, Odyssey Golf and Ping.
Callaway CEO Chip Brewer sent a team of three people from his industry leading golf company and called the experience outstanding.
GolfForever had a large group from their headquarters to demonstrate their golf training product and said the size and scope of both the indoor Omni facilities and the outdoor PGA offerings was something they had rarely seen.
"I was impressed by how robust the facilities were with different areas for putting and chipping, massive practice range, TopGolf, eateries and the beautiful Omni hotel," Homan added.
Josh Mark made his first trip to PGA Frisco, 45 minutes north of Dallas, Texas, from his Swing Control apparel headquarters in Toronto, Canada and came away impressed by the facility, but also by the caliber of clients many seeing his unique, innovative female golf apparel for the first time.
"The caliber of clients here is really surprising, really good, almost equal to Orlando (winter) show, much better than we've seen before in the summer," said Mark,.
"Beautiful resort and the best footprint to expose our product. We just want new eyeballs, new customers. Our people are so loyal, so caring, we just need more of them, that is why it's so exciting to be at a new place with new people."
The new PGA complex includes the national headquarters for the PGA of America, a modern PGA Teaching Center, two championship golf courses, the putting green, range, 10-hole short course plus the 550-room Omni resort, 13 restaurants , four pools and a large spa.
Other than the PGA Seniors Golf Championship held in May here and won by American Steve Stricker, this was the first large-scale golf event held here.
Much of the educational portion of the event took place in the four-story, technology-filled PGA headquarters giving pros and attendees a guided tour, most for the first time.
Reflo Golf co-Founder Rory Macfadyen traveled from his London company headquarters to North Texas for the first time and was amazed by what he found.
"Just walking into Omni, it's like breath is taken away. It's like nothing I have seen before, fantastic. It's been great this week and allows us to establish a presence in North America that we wouldn't have had."
It may have been the first, but golf technology, apparel and industry leaders agree it won't be the last for the Everything is Bigger in Texas PGA Summer Summit.