Whilst the industry saw a boom during the pandemic in terms of rounds played and new membership enquiries, analysis from Players 1st member experience surveys suggests that the key for long-term membership retention is to keep the overall member satisfaction levels high through their first 700 days. After this point, golfers feel comfortable and included within the golf club itself, and thus are more likely to renew their membership for continuous seasons. As the new year approaches, this should be a key consideration for club management.
It's of no surprise that there is also a correlation with the length of time which members have been attached to a club, with how likely they are to still be a member in two years' time. The data showed a 10% difference in likeliness of golfers still being a member at their current club between those in their first year of membership (57%) and those who have been part of the club for more than 6 years (67%).
What can we learn from the experiences of golf club members?
The turnkey member experience survey created by Players 1st includes a comprehensive template of questions, with ten main service areas of the golf club analysed in further detail. One of the most telling outcomes from the 2022 survey was that the cluster of 'Club in General' touchpoints have the biggest potential impact on improving overall experience; notably those relating to the governance of the golf club.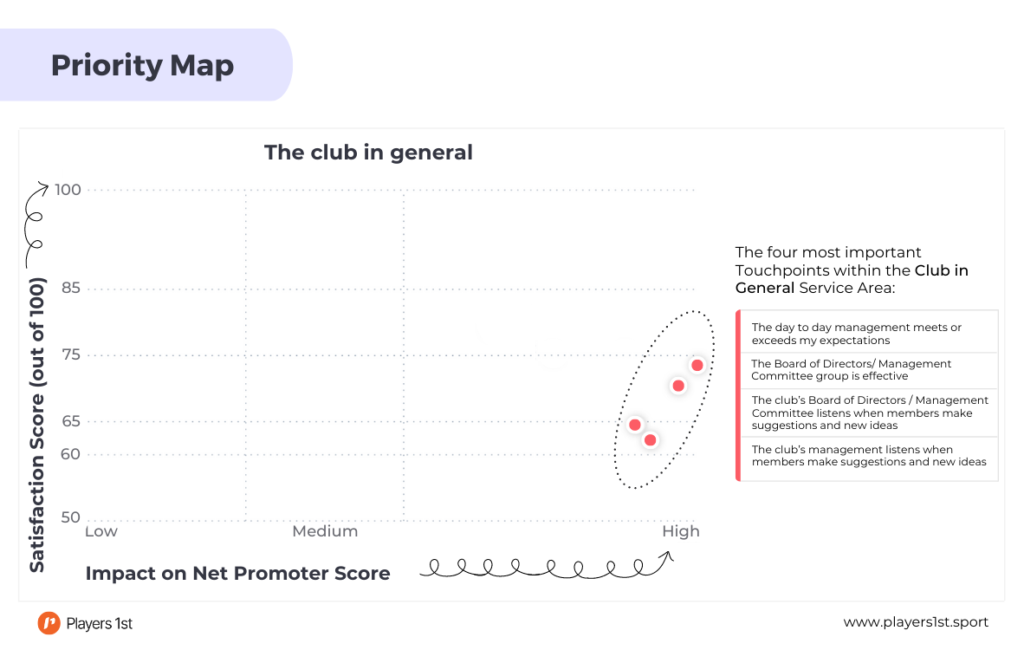 These include specific club habits such as 'The Board or Committee listening to members', 'The club's management listening to members' and also, 'The effectiveness of management' – with many of these standing out as areas requiring improvement. Simply put, golf club members want to be listened to, and these areas are generally falling short of their expectations for many. This was clearly illustrated when golfers were asked how well 'The day-to-day management meets or exceeds my expectations'.
Engage with members to develop loyalty
In relation to the above findings around the 'Club in General' service area, one clear example of this can be seen through the scores to 'The day to day management meets or exceeds my expectations'. Interestingly, the responses to this survey question differed greatly between those who were likely to remain at the same club for some time, and those considering leaving within the next two years. When asked about their experience with their day-to-day club management, the less loyal members gave a satisfaction score of 55 (out of 100), compared with 79 for those who were likely to still be a member in two years' time – a -24 point difference, and one of the biggest gaps within the entire survey.
By focussing on engaging with golfers, and creating a better level of dialogue between management and their members, clubs could expect to see a higher level of retention; helping to reduce the costs associated with new customer acquisition, and fundamentally create a more contented membership.
Differences between age demographics
Recent Players 1st new member experience survey insights suggest that age continues to play a large role when predicting loyalty to their club. The same is true in the member survey results. Only 43% of 18-30 year olds suggested they would remain a member at the club in 2 years' time, compared with 67% of those aged over 66. Somewhat worryingly for the industry, all age groups were less likely to answer "yes" to this question than they were in 2019, with a 5% reduction overall.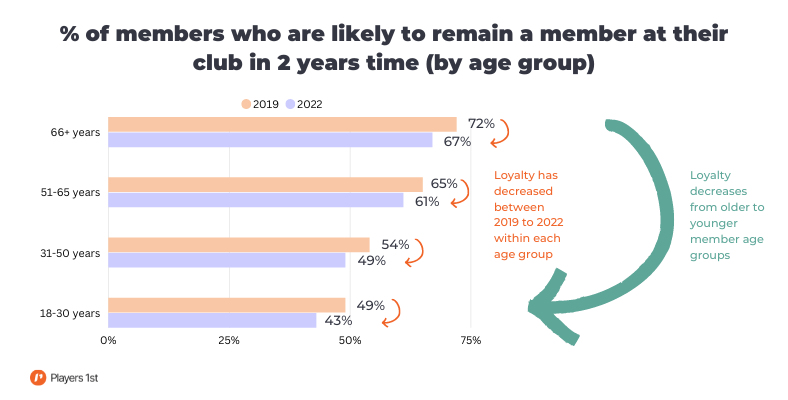 Whilst younger golfers may have less certainty over their own lifestyle and location at the start of their careers, there is a 24% difference compared to the eldest groups within clubs. This suggests that there is work to be done by management and the wider club ecosystem as a whole to ensure 18-30 year olds feel more welcome within clubs, and are thus more likely to continue their membership for years to come.
When looking at the data as a whole, almost all age categories were more likely to be a member of their current club for two more seasons in 2020 than in 2021 (before numbers rebounded somewhat in 2022). This suggests an industry-wide impact of the second year of Covid-19 as more golfers returned to more regular routines and resumed normal lifestyles.
So, what does this all mean for me and my club?
The Players 1st members survey found that when thinking about renewing, the vast majority of key factors influencing member loyalty, are things that the club and its managementcan influence.
It is unlikely that golf will again experience a sudden influx of new golfers in the coming years, as experienced across 2020. As club management prepares for 2023, it is imperative that clubs retain their memberships to the best of their resources and knowledge – where possible informed by outcomes from wider industry studies. By using a data-led approach to club management and creating retention strategies based on what matters most to their members, golf clubs can ensure more consistency in the member experience, and its development overtime.
This consistency and attention to feedback can ease financial and personnel planning, help to reduce the overall costs of new customer acquisition, and most importantly, create a more cohesive environment throughout the golf club and across all of its departments.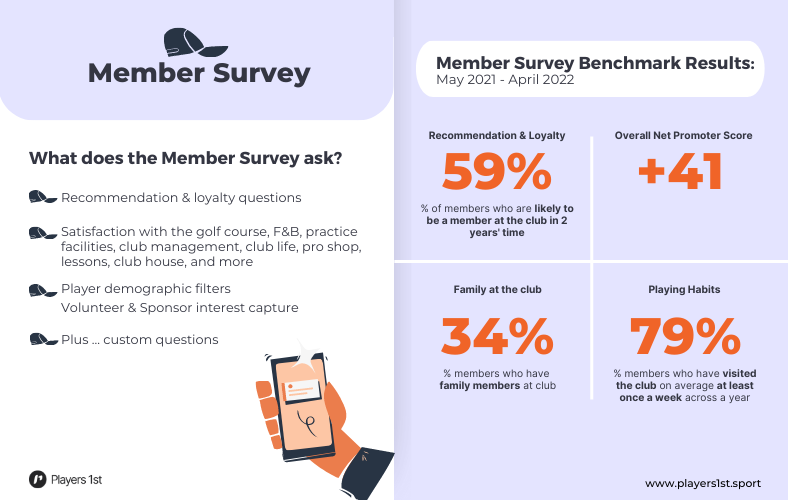 Players 1st continue to support golf clubs across England through their partnership with England Golf. Whereby affiliated golf clubs have the opportunity to access a 12-month free subscription to the members experience survey templates. A summary report of findings from Year 1 of the England Golf and Players 1st retention support is available, along with further information regarding how affiliated clubs can take up the support offer, from England Golf in the link below: