An exclusive feature collaboration with Golf Business Technology and Qondor
Golf, an ancestral sport and entrenched in its traditions, is known to be a very time-consuming activity, and even more so when there is slow play on the course! What golfer has never been confronted with this scourge during a game? It is from this observation that Qondor was born.
Qondor proposes three complementary solutions, based on geolocation, in order to optimize the management of golf courses, as well as golfers' experience.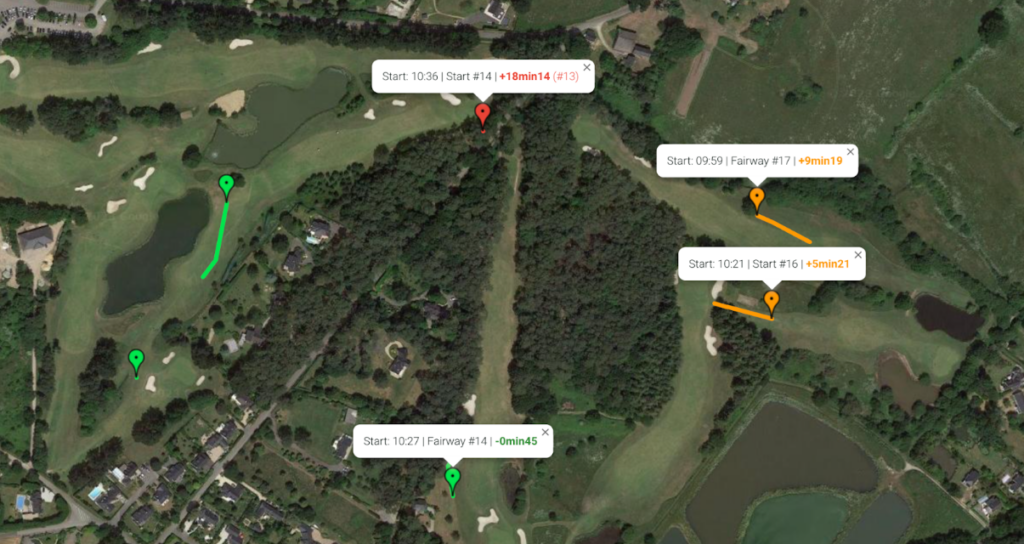 Qadence: to eradicate slow play
Slow play is a real problem, whether for golfers, who end up losing their patience and concentration, or for golf course managers who gradually let a 'miss to win' situation set in.
Thanks to our real-time tracking solution, Qadence eliminates slow play and reduces the interval between tee times, at the same time ensuring that golfers get an optimal playtime on a daily basis and during competitions. It is therefore possible to plan one or two additional departures per day, for greater member satisfaction and increased turnover. For example, the Chiberta Golf Course, which has managed to reduce its daily playing time by 12 minutes, thanks to Qadence. Through real-time vision, Qadence helps teams to perform surgical intervention in the right place at the right time, thus saving time, which enables them to go onto other higher added value missions. This furthermore increases employees' versatility and associated financial gains.
Qustom: to generate additional income
Lifestyles and consumption patterns are constantly changing but in the golf world, there has only been two possible options for decades: 9 or 18 hole green fees. However, many golfers have to deal with several constraints, such as the time they have at their disposal, weather conditions or even physical constraints. Some of them would like to continue beyond 9 holes, without necessarily going all the way to the 18th. For lack of a suitable commercial offer, 30% of golfers questioned during one of our surveys admit to have already frauded at the 9 holes green fee. Qustom is the technological solution to meet these expectations and eliminate fraud. By offering a flexible and adapted commercial response, Lille Métropole Golf Course, equipped since 2021, has seen an average increase of 9.3% in its turnover compared to the 9-hole green fees that would have been collected without Qustom; 35% of players play beyond 9 holes, and 15% play up to the 18th hole.
Qart: to manage the cart fleet
Qart is the car fleet management solution, compatible with all brands. Qart obviously enables you to control the pace play but also to create on-board services (drink delivery for example), to analyze the use of each cart or to view the battery voltage in real time.
About Qondor:
Qondor is a French company specializing in the golf and boating industries. It offers a technological platform – providing a golf course management and optimization service. Its goal? To reconcile golfers' experiences with the challenges of operating golf courses, by combining technology and analysis of user needs. Qondor is: 9 countries, more than 160 customers and over 3700 tags sold.
For more information contact margaux@qondor.fr