Spend some time with Blue Tees Golf's CEO Chris Markham and you'll understand what led a handful of entrepreneurial golfers to create a Southern California-bred company on a personal mission to inject even more enjoyment into the game of golf.

"We launched in 2019 around the simple premise that golf laser rangefinders were either too expensive or cheap and inadequate in regards to what the modern golfer was looking for," explained Markham. "We saw room in the middle and chose to focus on the perfect blend of design, features, and functionality, while also creating a lifestyle brand that the new age of golfer would resonate with."

Like many startups, Blue Tees was born out of a shared love of golf amongst good friends who experienced shared disappointment and decided to do something about it.

Each had their own unique journey and experience where pricy golf products either broke, stopped turning on, or were delivering inaccurate information—resulting in a five-man think-tank built on the premise that it shouldn't be that difficult to build a high-quality, well-designed rangefinder, without having to spend a small fortune.

The visionaries soon joined forces, as combined backgrounds in technology, industrial design, sales, and marketing allowed Blue Tees to create a product that checked off all boxes: premium materials, industry-leading technology, style, and affordability.

The result? A new product line that includes rangefinders, high-end Bluetooth speakers, and quality accessories that truly stand out from anything on the market, thanks to precise attention to detail and a fervent commitment to quality design.

Innovation is also a secret ingredient of the squad, which is why last year's successful PLAYER speaker is set to evolve this fall as the new and improved PLAYER+— for which Blue Tees is recently took pre-orders and will start shipping in Q3 of 2023.

"The PLAYER+ will be the first touchscreen-enabled golf speaker to enter the marketplace," Markham shared. "We're excited to have developed a product that works with our new Blue Tees Game mobile application, providing all of the technical information needed for your round, and features robust sound quality like nothing heard before."

Aside from the PLAYER+, Blue Tees has a running wait list for their new RINGER device—a smart, magnetic handheld, preloaded with GPS information for 40,000 golf courses worldwide—featuring a sleek touchscreen glass display and companion mobile app designed to up the overall experience of one's round.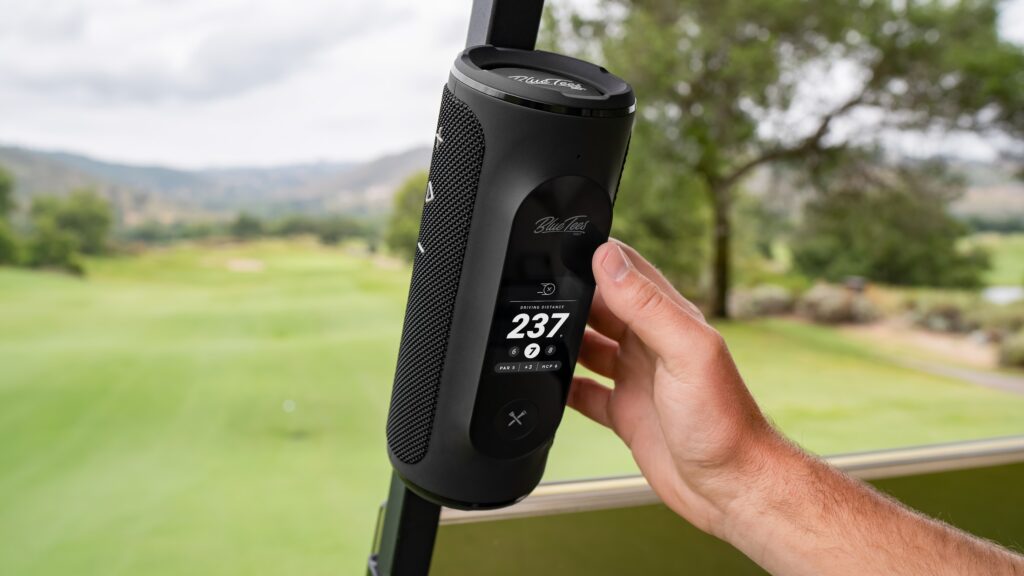 Embedding GPS information for 40,000 courses felt like a monumental feat before Markham and Blue Tees crossed paths with iGolf, a company self-described as a "technological pioneer for the golf industry" that has worked behind the scenes with some of the biggest brands in golf for the past couple of decades. Markham describes what led to the meeting of the minds.

"We crossed paths with iGolf in the summer of 2022 as we needed more than just a data provider; we were on the hunt for a group that also possessed the technical expertise to help bring our ideas to life and to help us launch what we felt would be some of the most innovative and revolutionary products the marketplace had seen in a long time," he shared.

"Outside of possessing all of the data necessary to build GPS-enabled devices, iGolf also has the technical expertise—mechanical and electrical, as well as engineering—which meshed with our vision and industrial design for an ideal fit."

Of course, designing a quality product is only half the battle; for optimal success, any new brand needs to stand out in a crowded landscape—which is why Blue Tees has put such an emphasis on a strong social media presence, as well as a premium focus in the lifestyle space as they are in golf technology.

"From day one we set out to build a golf-first, golfer-focused, experience-driven brand," Markham explained. "When we got into this space, we saw all of the successful industry titans and a lot of massive conglomerates—which is why we put our focus on newer brands like Travis Mathew and envisioned bringing that type of attitude and energy to what we wanted for Blue Tees."

Blue Tees' efforts to raise brand awareness have resulted in the next generation of customers walking into golf retailers and asking for Blue Tees by name, which is an incredible accomplishment for a new company.

iGolf CEO Brian Verdugo echoed Markham's sentiments and remains excited about the direction both the game itself and golf technology are headed.

"Blue Tees is just the type of brand that the game of golf needs right now, coming along at the perfect time and with a product offering that fits the modern-day golfer," shared iGolf's founder and CEO. "Our team loves working with everyone over at Blue Tees as we appreciate their innovative thinking, their concepts, and designs, as well as their desire to redefine the marketplace—all of which have them primed to be an industry leader for years to come."

When asked to describe Blue Tees' approach in the simplest of terms, both Verdugo and Markham summed it up in two words: "Play Different"—which is at the core of the brand's ethos.

Blue Tees wants its rangefinders to change the way you see the course while its PLAYER+ changes the way you hear the course. "Change" being the operative word as golf continues shifting, evolving and becoming something new and exciting for every generation that decides to pick up a club and invest in this perfect game.

"We're now living in a TopGolf era," Markham shared. "High-end country clubs nationwide are installing indoor simulators for their members, while music is becoming commonplace on courses that used to shun it—all of which is attracting a new generation to the game; one that doesn't necessarily represent the stereotypical, buttoned-up golfer of yesterday."

Embracing change, driven to Play Different, motivated to create, and a passion for innovation—Blue Tees is in it for the long haul and is just the type of brand the new generation of golf enthusiasts have been waiting for.