Since the first archer constructed a quiver, the golfer has not had much need for improving upon this ingenious solution. In fact, despite all the advances in bag technology over the years (lightweight materials, backpack straps, bottle holder that don't keep your drink cold) only a few advances have been truly transcendent but not less ingenious. The tripod stand and the full-length club divider come to mind. One of the great things about talking to Sam Goulden, founder and owner of MNML golf bags, is not only does he eschew vowels but pretense as well. He wasn't out to reinvent the wheel with his golf bags but, instead, was looking for ways to meet the modern golfer where they were at this moment in time, and right now that means personalization fueled by how social media has made us all curators of our own brand.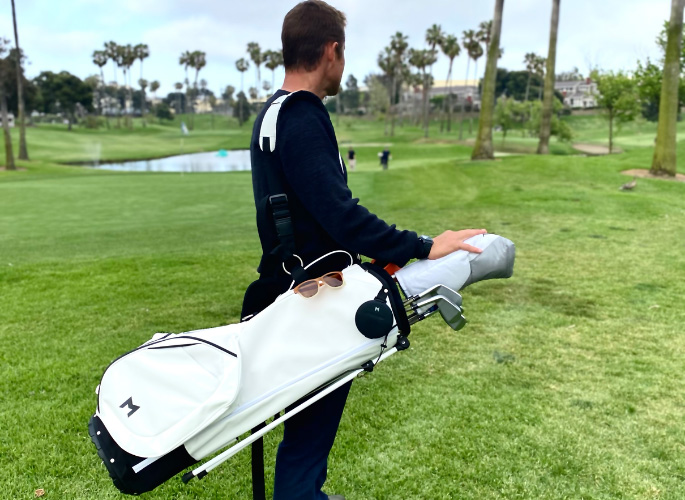 An instructor of golf, Goulden was teaching one afternoon when a student came out with a very small simple bag. "I thought, that's all you need right there," he says. "But it would have been better with a stand." He started talking to friends about a new kind of bag and they told him if he was going to make a bag for modern golfers, "then add modern things to it." The innovations in Goulden's bag are small, but, well, kind of golden. By upgrading to MNML's technology package, you'll have an integrated solar charging station, which will keep your phone and music running the entire round, as well as help power the bag's Bluetooth speaker. One of the smallest but best changes on MNML's bag is that its cell phone is stitched at a forty-five-degree angle so that when the bag's stand is engaged the phone is level, allowing you to snap that video of you crushing your drive, topping your three-wood, or capturing your buddies trip. But this isn't just the world's biggest tripod, it's a bag with smooth, water-resistant materials that doesn't remind you of your Kevlar luggage. The bag comes only in white and black and that's by design to keep costs down and in line with the company's branding, but it also enables Goulden's real secret weapon, Hitoshi, the Japanese artist who performs the customization option. Goulden's supplier told him embroidery would be too expensive to customize and Goulden didn't think it would look right on the material anyway but a chance meeting with Hitoshi made Goulden realize paint was the way to go for his bags. When choosing this option, Hitoshi will hand-paint your bag. It doesn't get more personal than that. Version 2 of the MNML bags are available now.
MNML Bags start at $249. Technology package adds $40 and comes in iPhone and Android options.